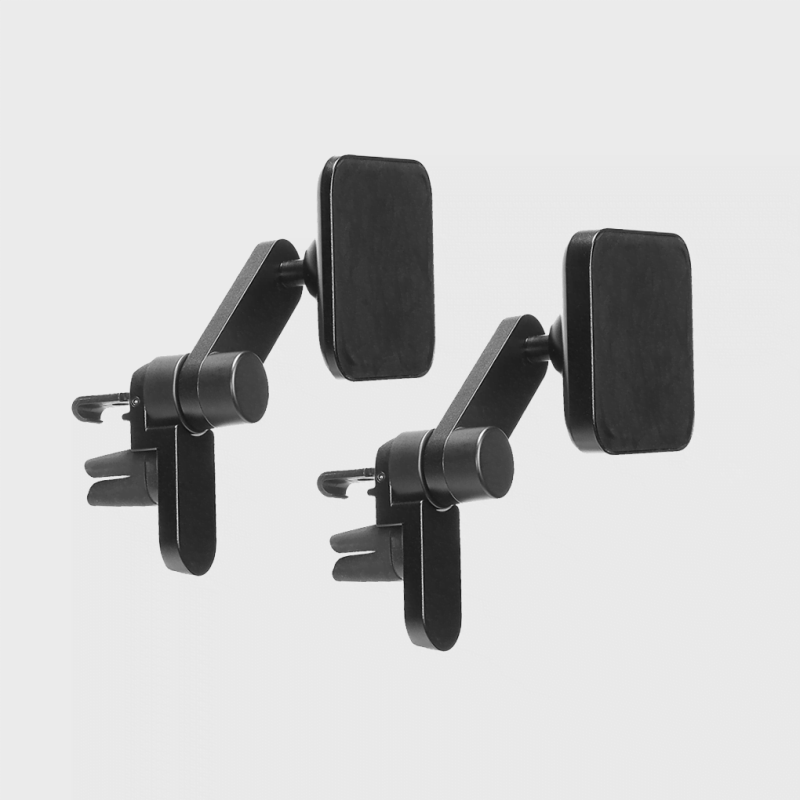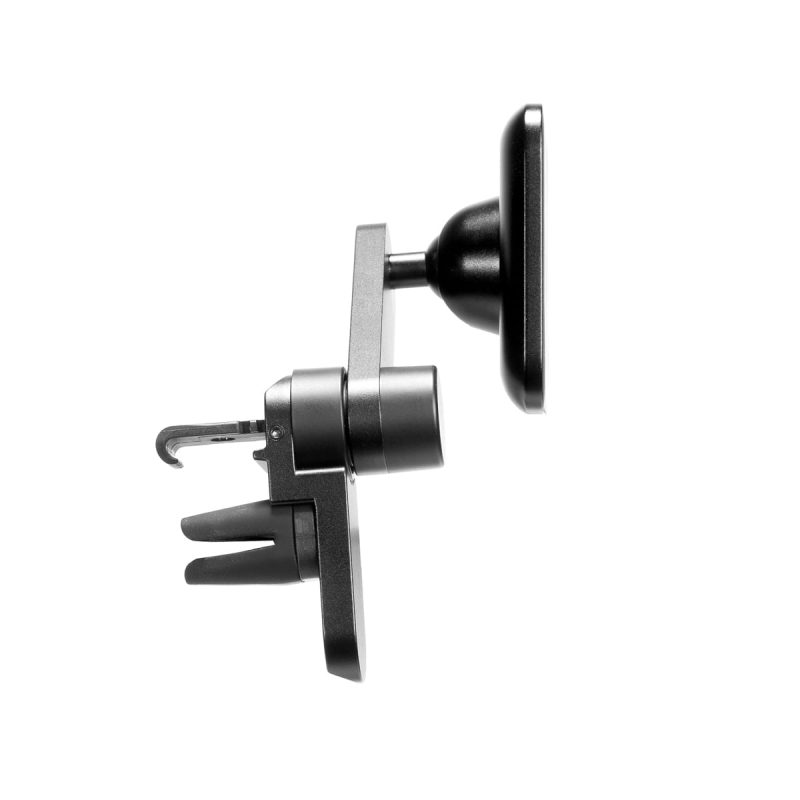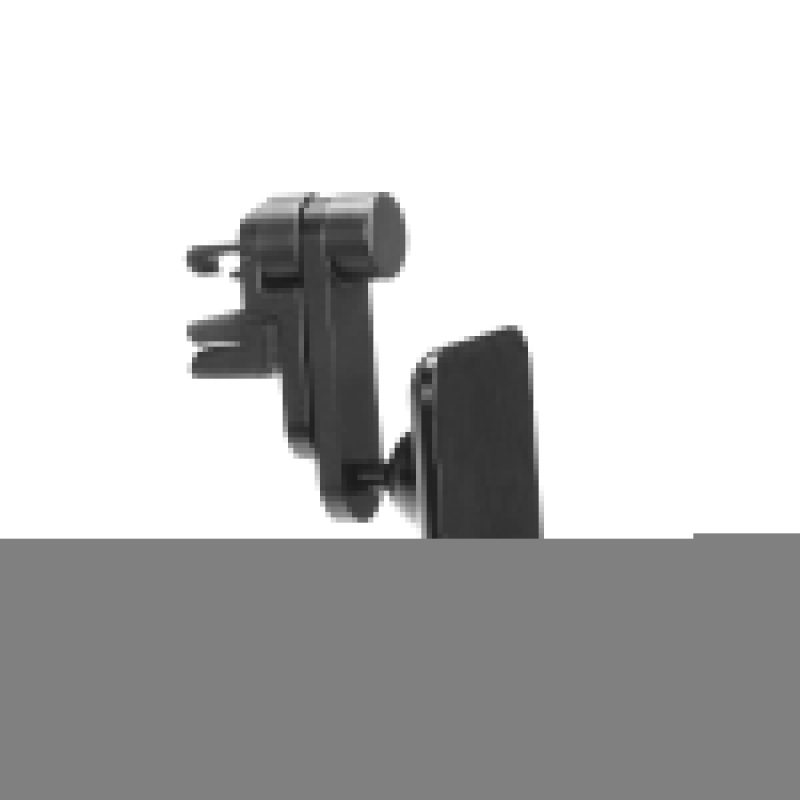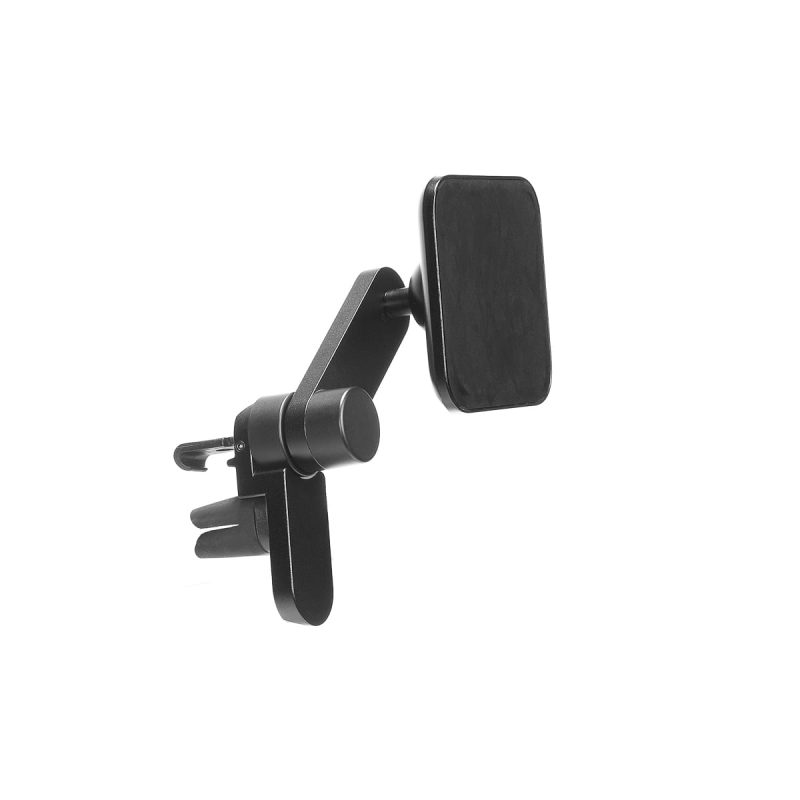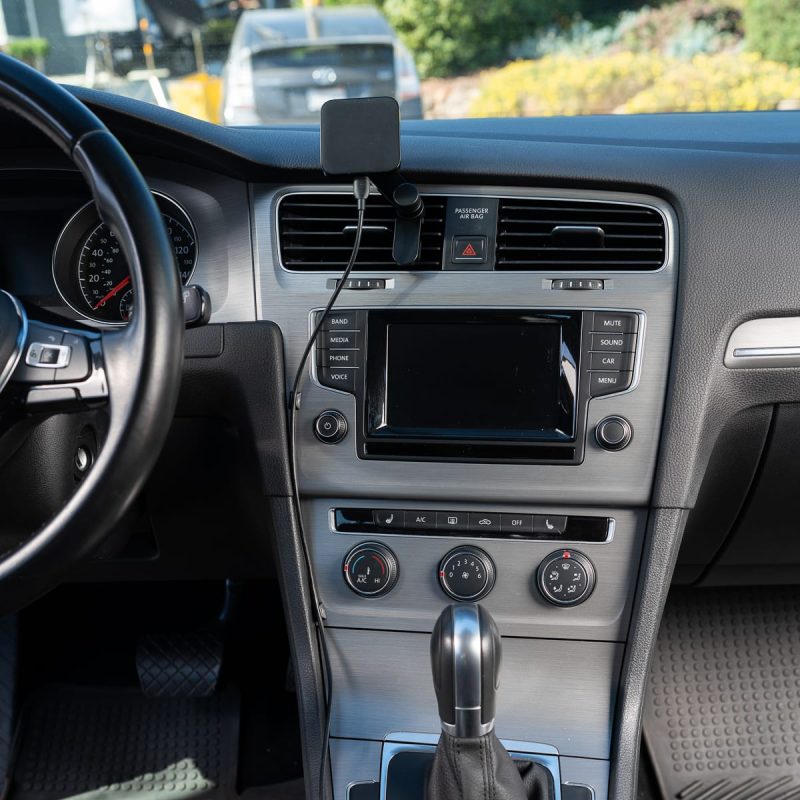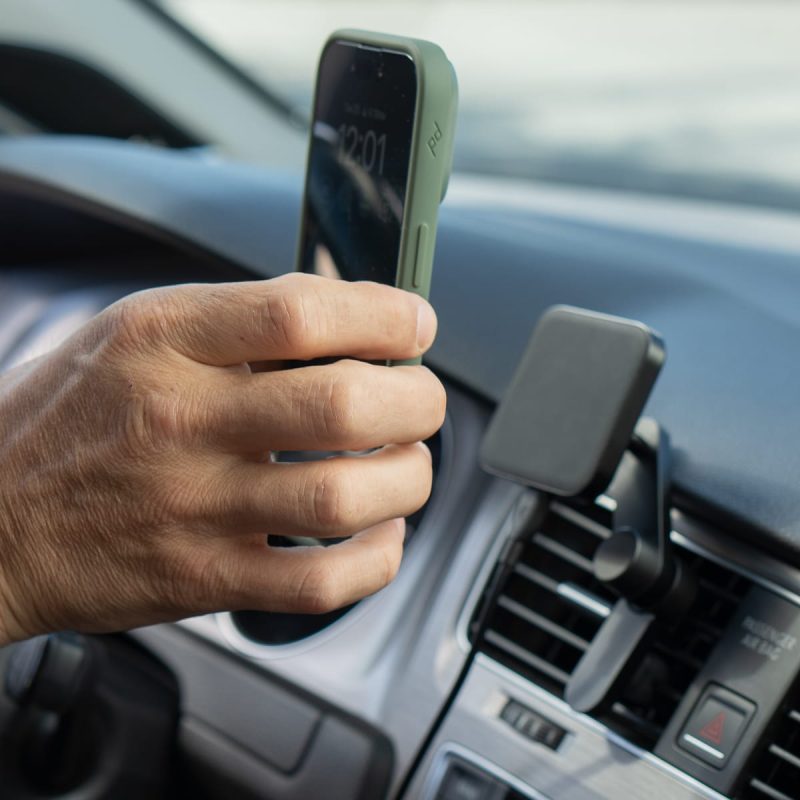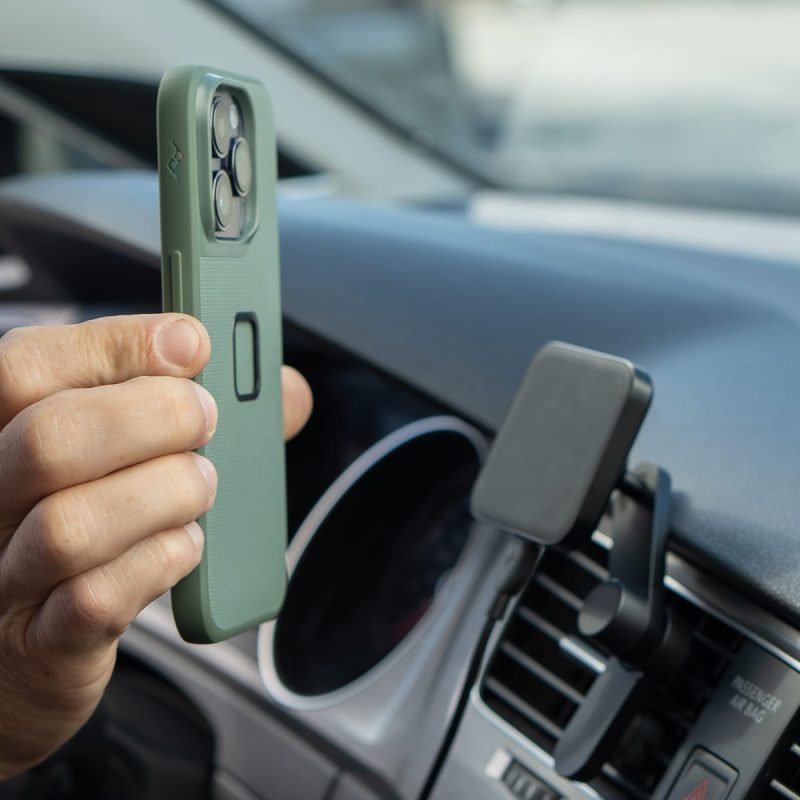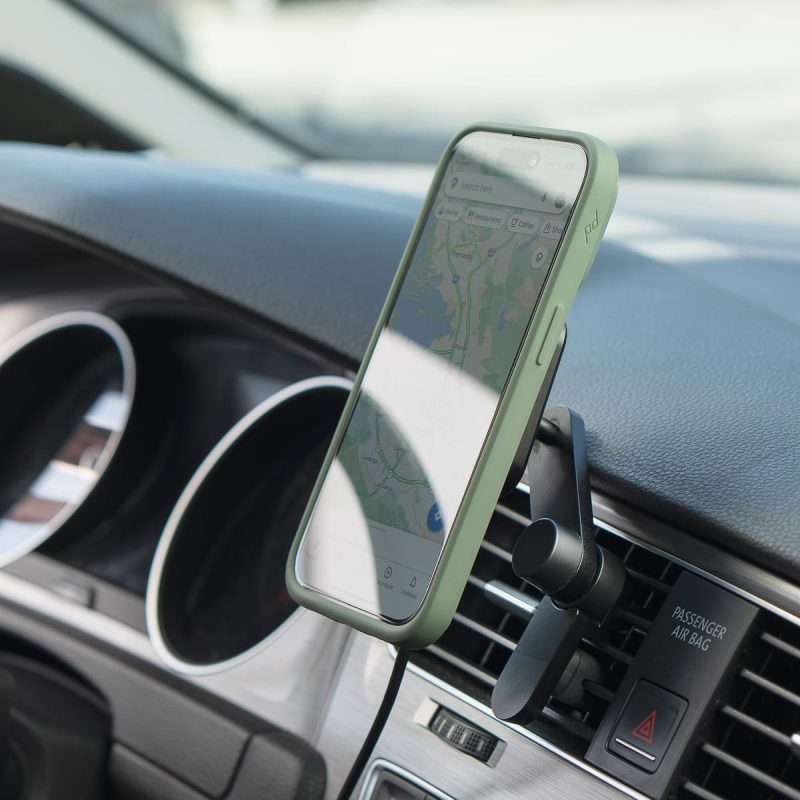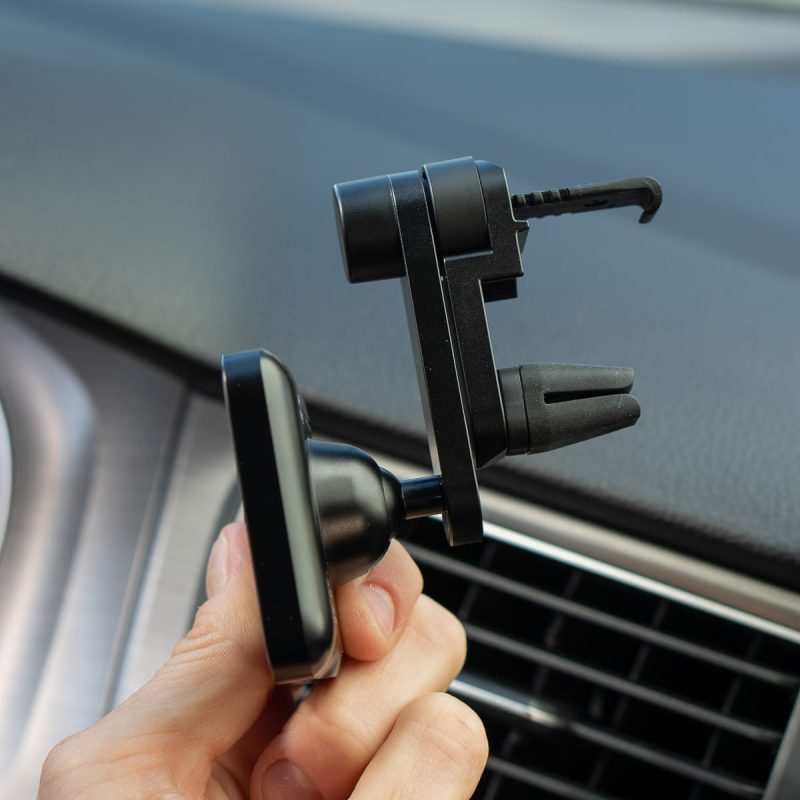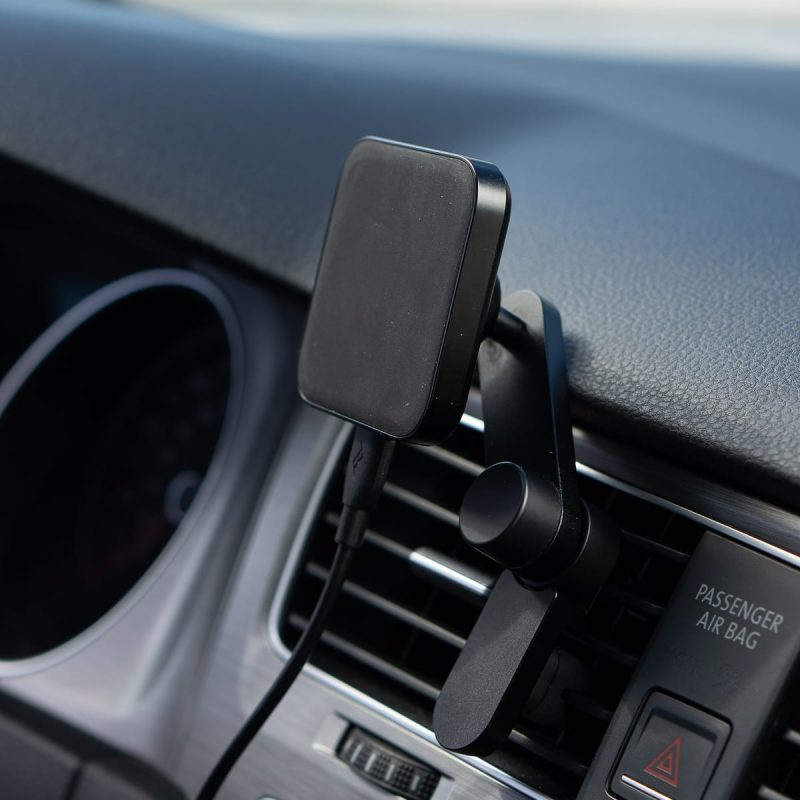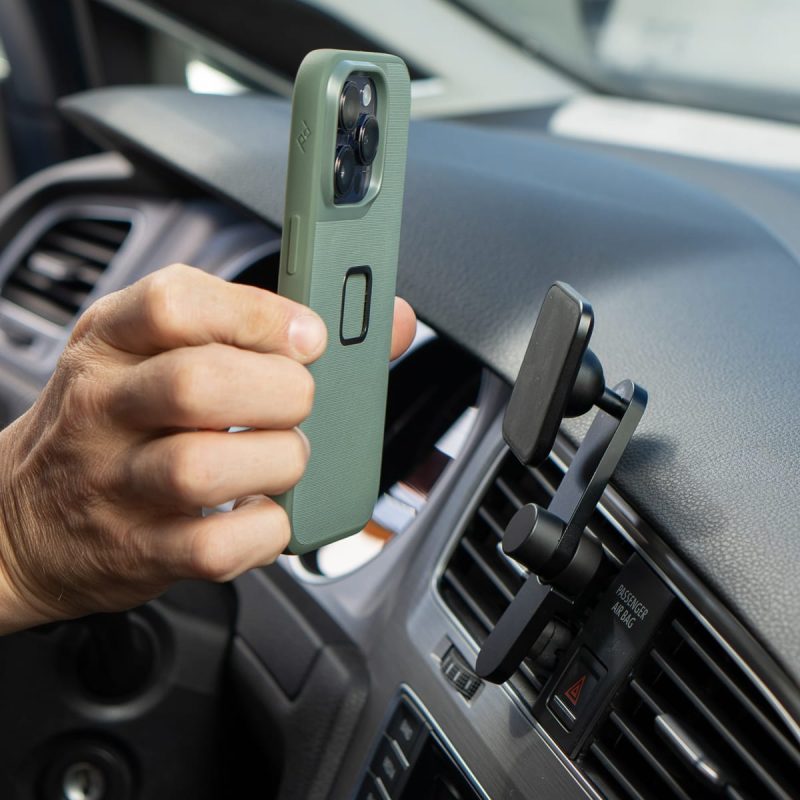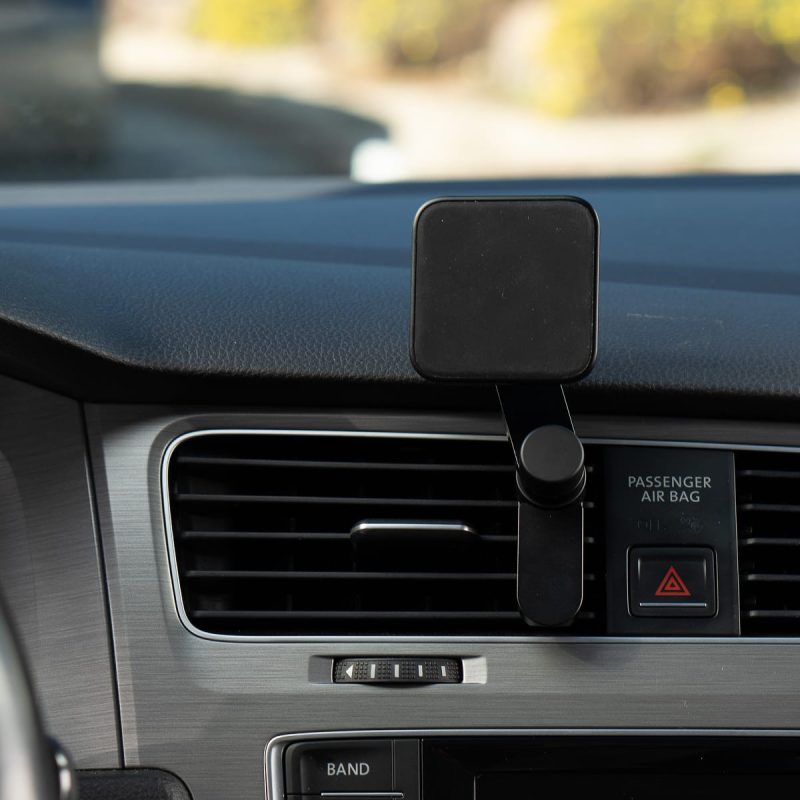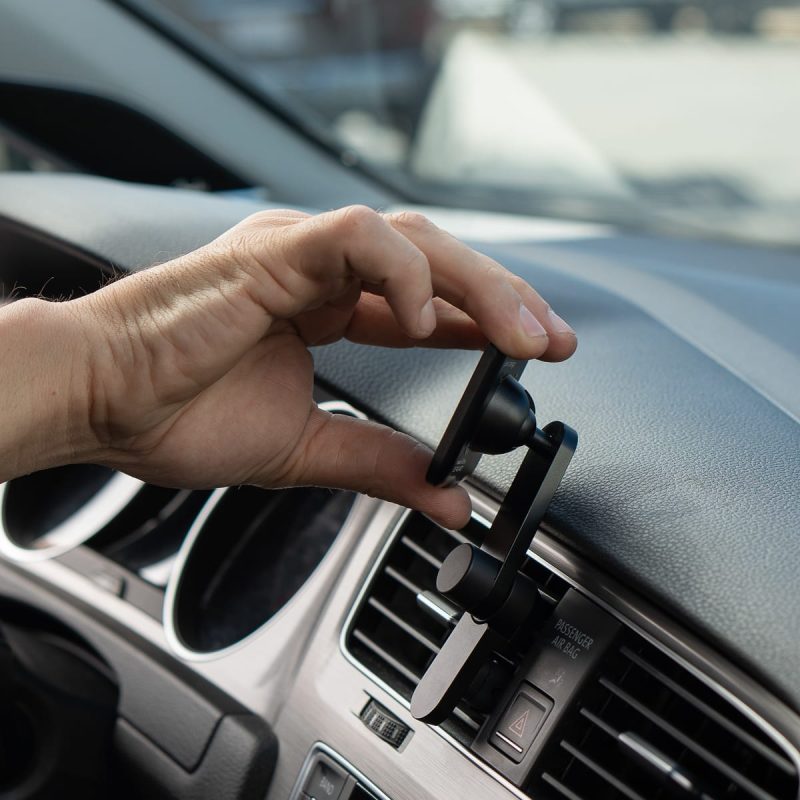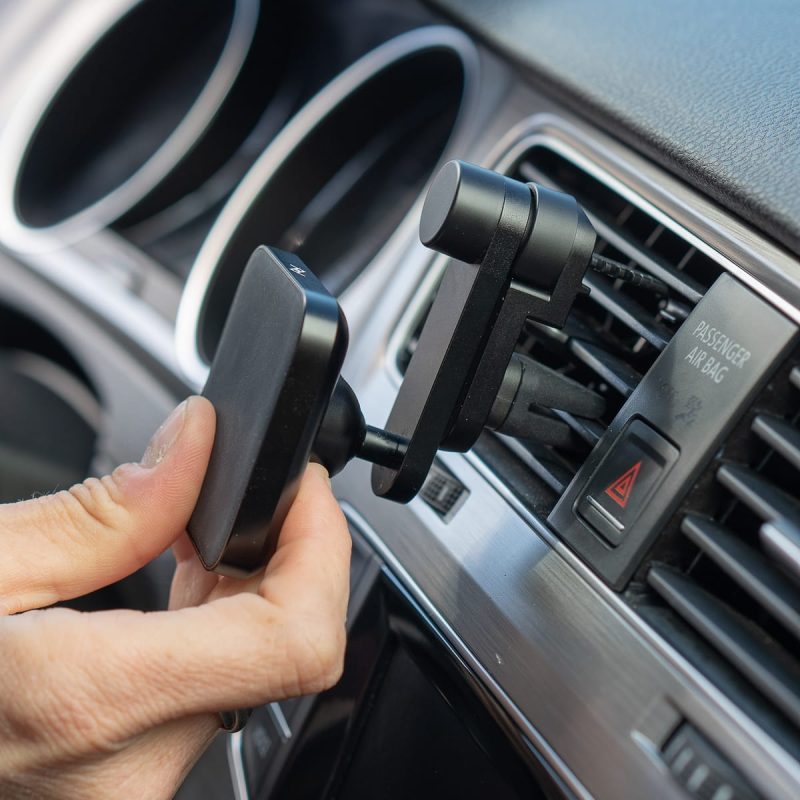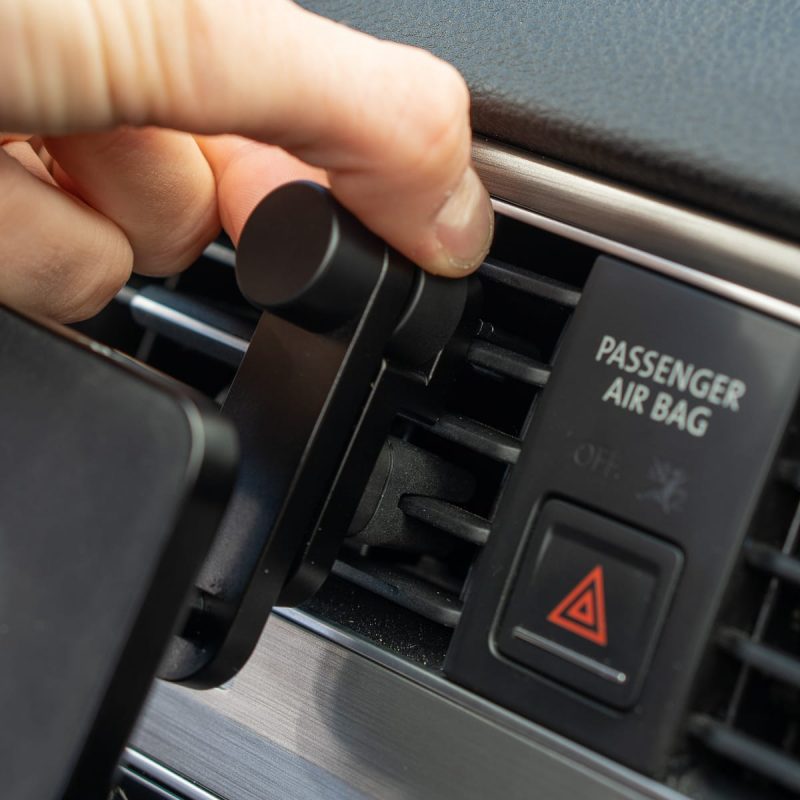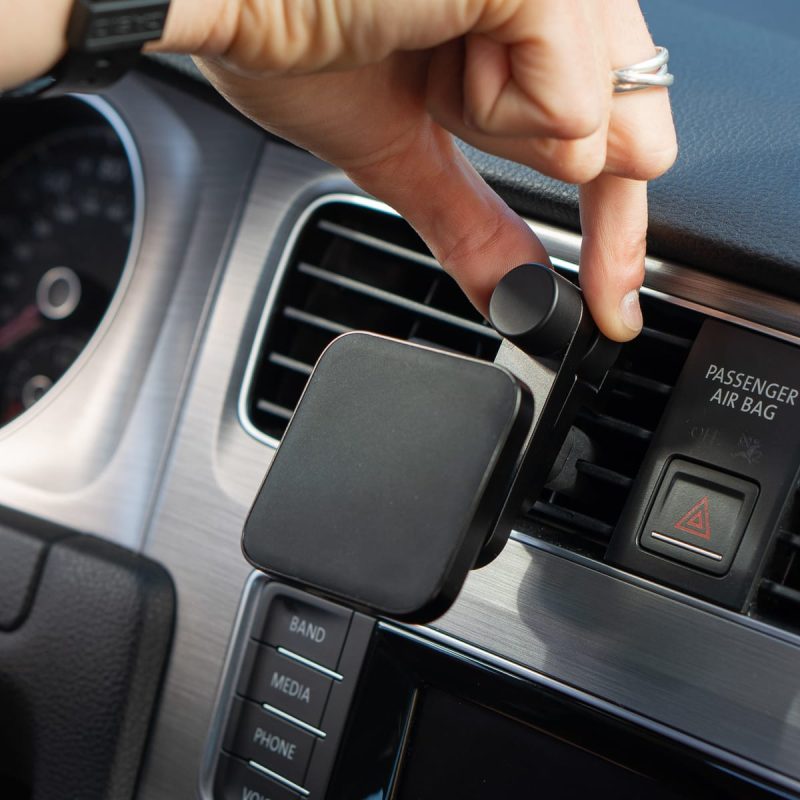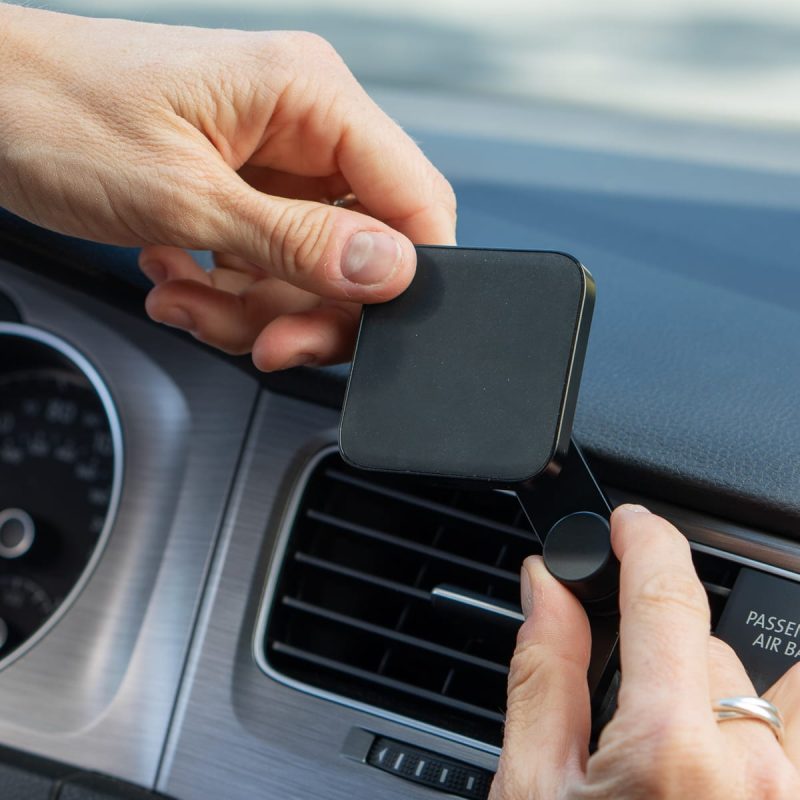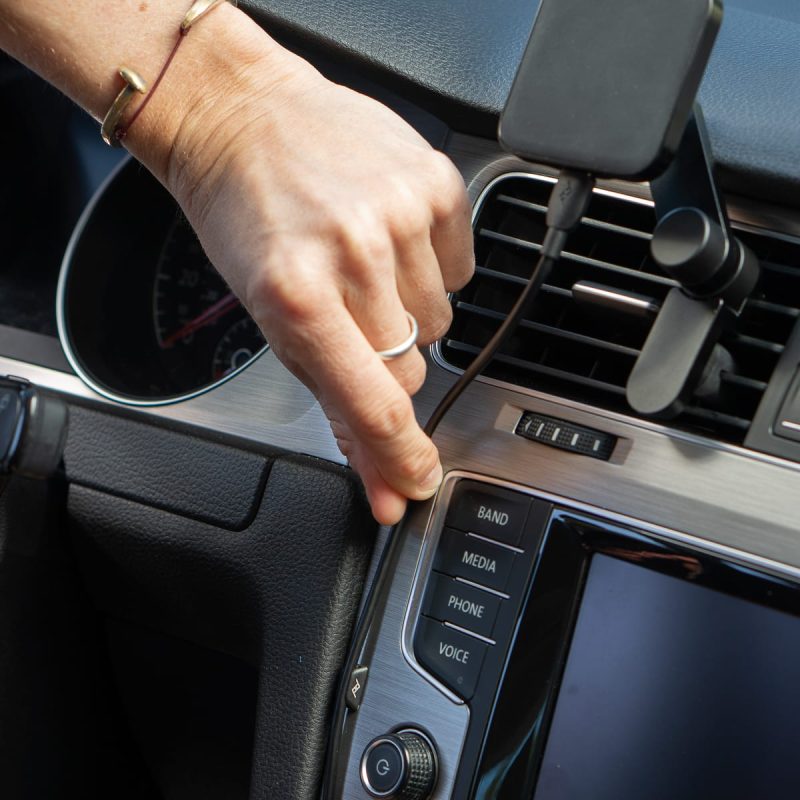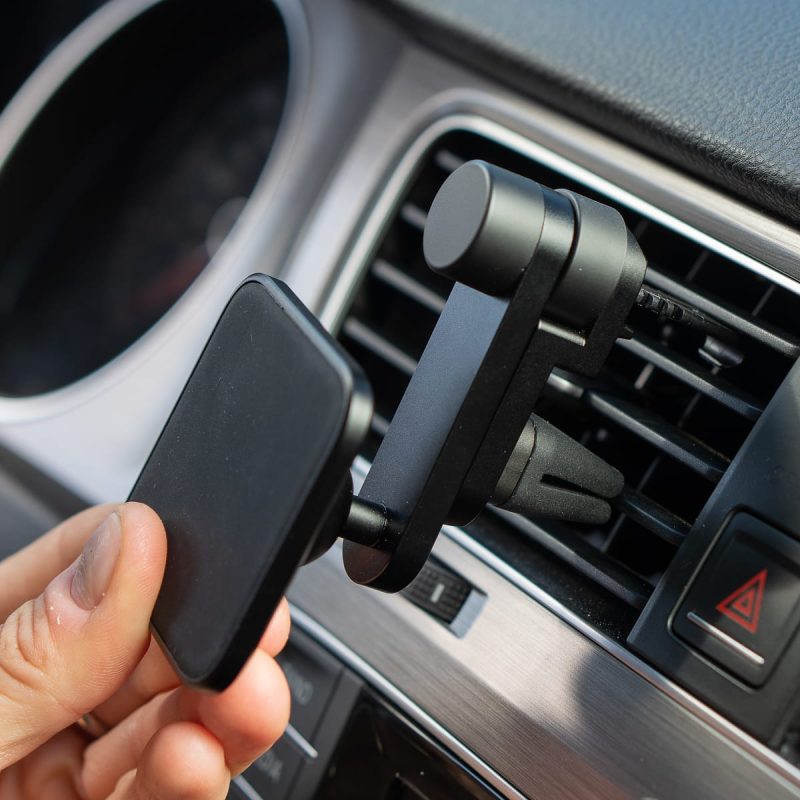 Car Vent Mount
₱4,500.00 – ₱6,800.00
You get what you pay for with car vent mounts, and the Peak Design Car Vent Mount is hands-down the strongest, sturdiest, most adjustable vent mount money can buy. Traditional vent mounts are fraught with frustration: they're flimsy and prone to falling off, they're difficult to position, and they completely block airflow. Built from solid machined aluminum, the PD Car Vent Mount fastens to your vent with 2 points of connection for considerably more strength and stability. A 360-degree swivel arm lets you position your phone away from your vent for better airflow and easier viewing. And to top it off, this mount uses our SlimLink™ mounting system—powerful magnets and a UV-shielded anti-slip pad instantly grab hold of your phone in portrait or landscape. Adjust the viewing angle with a buttery-smooth aluminum ball head. This mount is strong enough for any kind of driving, off-road included.
Available in standard or wireless charging models. With the charging model, the mount's magnetic connection system ensures perfect charging coil alignment every time. That means more consistent and efficient charging and no more surprise battery outages.
Compatible with many but not all car vents (see compatibility specifications below). Requires a Peak Design Case or Universal Adapter (sold separately). Also works with MagSafe phones and phone cases. Charging may not be possible or optimal when using the Universal Adapter.
Feels like a Factory Option
Beautiful, Minimalist, Secure Phone Mount for your Car's Vent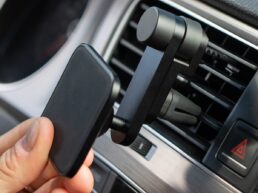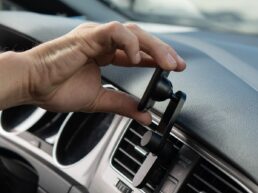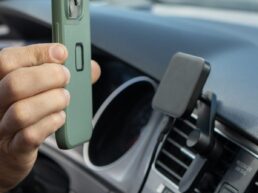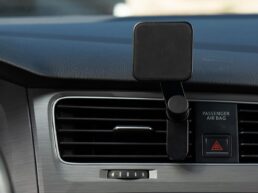 FEELS LIKE FACTORY OPTION
Your car isn't a cheap plastic afterthought, so why stick an ugly, bulky phone mount right in the middle of your dashboard? We designed our Car Mount to look and feel like it's been part of your vehicle from the start.
Magnetic phone attachment technology (called SlimLink™) is ultra secure and feels like magic
Installs on a wide range of vehicle air vents (see compatibility below)
Exceptional stability compared to other vent mounts thanks to unique clamp connector
Strong and stable enough for off-road driving
360-degree swivel arm lets you position phone right where you want it
Doesn't block vent airflow like traditional vent mounts do
Holds phone in portrait or landscape mode
Buttery-smooth ball head for viewing angle adjustment, designed by PD tripod engineers
Rugged machined/anodized aluminum construction
Easy to remove and install on another vehicle
Wirelessly charges your phone as soon as phone is magnetically attached to mount
Included high-quality 1m USB-C cable and low-profile 12V auto outlet adapter
Included clips for discreet cable routing
*Wireless Charging model only
**MagSafe is a registered trademark of Apple, Inc.
VENT COMPATIBILITY (BOTH MODELS)
Can safely connect to heating/cooling vents that meet all of the following criteria:
Straight horizontal or vertical blades (not curved or circular blades)
Vent must be at least 63mm (2.5") wide (vertical blades) or tall (horizontal blades)
Blade depth must be between 7-23mm (1/4" to 7/8")
Gap between blades must be at least 8mm (5/16")
Blades must be secure and not easily removeable
See install video, packaging, or help center for more info
Works with any phone with a Peak Design Case or Adapter
Also works any MagSafe phone or case
Wireless charging may not be possible or optimal when using Universal Adapter
CHARGING VENT MOUNT
DIMENSIONS
Mount Head: 5.8 x 5.8 x 0.7 cm
Swivel Arm Length: 6.9 cm (5cm pivot to pivot)
WEIGHT
NON-CHARGING VENT MOUNT DIMENSIONS
Mount Head: 5.5 x 5.5 x 0.7 cm
Swivel Arm Length: 6.9 cm (5cm pivot to pivot)
WEIGHT
MATERIALS (BOTH MODELS)
Machined/anodized aluminum mounting head & swivel arm
Grippy silicone mounting pad with Tinuvin 770 UV-stabilizer
High-temp neodymium mounting magnets
Glass-reinforced nylon blade hook
Hardened steel blade clip with silicone overmold
ABS plastic knobs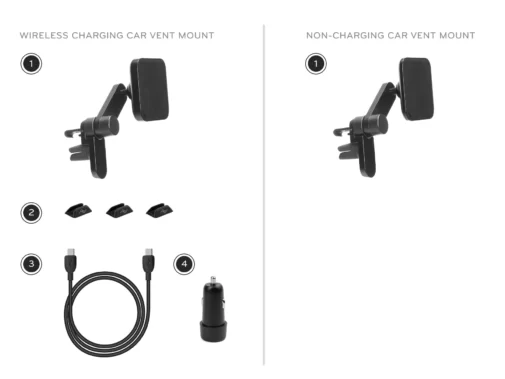 1x Charging Car Mount
3x Charging Cable Routing Clips
1x 1m Charging Cable (USB-C to USB-C)
1x Cigarette Lighter Power Adapter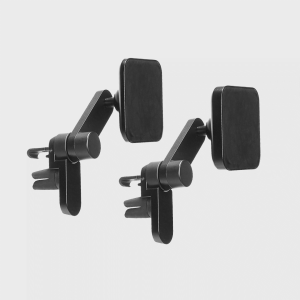 Car Vent Mount
Your review
* Review is required
Email
* Email is required
Add photos or video to your review
Q & A
There are no questions yet
You may also like…
Adapter for third-party phone cases