Copper-Rich Socks
₱875.00 – ₱950.00
Cu+Care Copper-rich Socks are originally designed for diabetic patients who needs to keep their feet dry and protected from any potential infection due to their condition. The socks are made from a special blend of nano-composite copper textile that is laboratory-certified and shown to be effective in neutralizing harmful microbes and bacteria. This is especially beneficial to those who need to manage proper foot care to prevent fungal re-infection such as athlete's foot. The nano-copper technology likewise keeps the foot dry and mitigates odor by neutralizing the bacteria that causes it.
Nowadays, Cu+Care Copper-rich Socks are used by anyone who wants to elevate their foot care management. Athletes, medical professionals and those anyone who wears socks all day will benefit from the added benefit and features that this socks provide.
Cu+Care Antimicrobial Socks are certified to be antimicrobial, anti-fungal and are 100% made in Taiwan.




Antimicrobial Efficacy
Intertek #TWNC0920361
Staphylococcus aureus >99.94%
Kiebsiella pneumoniae >99.92%
Trichophyton mentagrophytes None
Everyday Use for Everyone
Cu+Care Copper-rich Socks are comfortable and breathable. They're designed for everyone, especially those wearing close shoes, who needs to maintain proper foot care/hygeine.
Skin-safe
Cu+Care Copper-rich Socks are are non-irritating, non-sensitizing and non-toxic. It does not use any dye in its finishing process. They are made from natural blend of fiber infused with copper ions.
Copper's Antimicrobial Action

CONTACT AND INITIATION
When a microbe lands on a copper surface, its membrane is ruptured. This leads to loss of cell content as large amounts of copper ions dissolved from the metal surface are taken up by microbe.

GRADUAL DESTRUCTION
Dissolved copper ions react with oxygen and create radicals like OH which causes severe damage to the microbe's cell.


TOTAL ERADICATION
Microbe's DNA is fragmented into small pieces which seep out of the cell. It's DNA and RNA are destroyed, and can no longer mutate and multiply. This eventually leads to total eradication
SIZE (Foot Length)
Medium (M): 22-26 cm
Large (L): 24-28 cm
COLOR
Natural cuprous color (non-dyed)
Materials
78% Nano-Copper Composite Fiber
20% Polyester
4% Spandex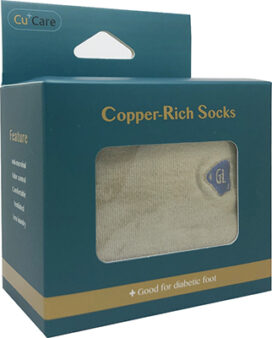 1 pair Cu+Care Copper-rich Socks
Only logged in customers who have purchased this product may leave a review.
Q & A
There are no questions yet