Antimicrobial Sheet
₱950.00
Cu+Shield is a paper-thin antimicrobial copper sheet that can be adhered to various different type of hi-touch surfaces where there is a need to neutralize microbes and viruses to prevent transmission and cross-contamination. These surfaces can be door handles, door push plates, rails, and other surfaces that commonly touched which may cause cross-transmission of viruses and harmful microbes.
Made in Germany using pure copper (99%), Cu+Shield naturally inhibits bacterial and viral multiplication by disrupting and destroying the very membrane of the microbe.
Cu+Shield is non-toxic, non-irritating and safe to touch. Each pack comes with 2 sheets (15x30cm) with adhesive strips that user can use for application.
In stock
Scientific research demonstrates copper's antimicrobial effect and supports its use in applications where control of contamination benefits society, such as healthcare, heating, air-conditioning and public transport. Copper alloys are the only solid surface material registered with the U.S. Environmental Protection Agency as antimicrobial public health products.
Frequently touched surfaces made from uncoated EPA-registered copper alloy materials continuously kill bacteria* within two hours of contact when cleaned regularly.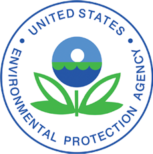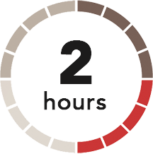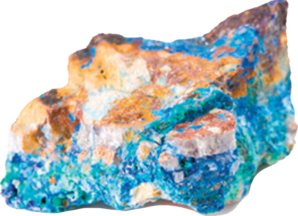 * Laboratory testing shows that, when cleaned regularly, Antimicrobial Copper™ kills greater than 99.9% of the following bacteria within 2 hours of exposure: MRSA, Vancomycin-Resistant Enterococcus faecalis (VRE), Staphylococcus aureus, Enterobacter aerogenes, Pseudomonas aeruginosa, and E. coli O157:H7. Antimicrobial Copper surfaces are a supplement to and not a substitute for standard infection control practices. Just like other antimicrobial products, they have been shown to reduce microbial contamination, but do not necessarily prevent cross contamination; users must continue to follow all current infection control practices.
"While the exact mechanism by which copper kills bacteria is still being studied, the laboratory data is compelling – on copper surfaces, bacteria and viruses die." – Marc Solioz, April 2011, Scienzainrete

CONTACT AND INITIATION
When a microbe lands on a copper surface, its membrane is ruptured. This leads to loss of cell content as large amounts of copper ions dissolved from the metal surface are taken up by microbe.

GRADUAL DESTRUCTION
Dissolved copper ions react with oxygen and create radicals like OH which causes severe damage to the microbe's cell.


TOTAL ERADICATION
Microbe's DNA is fragmented into small pieces which seep out of the cell. It's DNA and RNA are destroyed, and can no longer mutate and multiply. This eventually leads to total eradication
COPPER'S VALUE TO HUMANITY
Copper was first used by man over 10,000 years ago. A copper pendant discovered in what is now northern Iraq has been dated about 8,700 B.C. For nearly five millennia, copper was the only metal known to man, and thus had all the metal applications.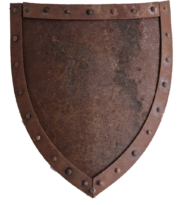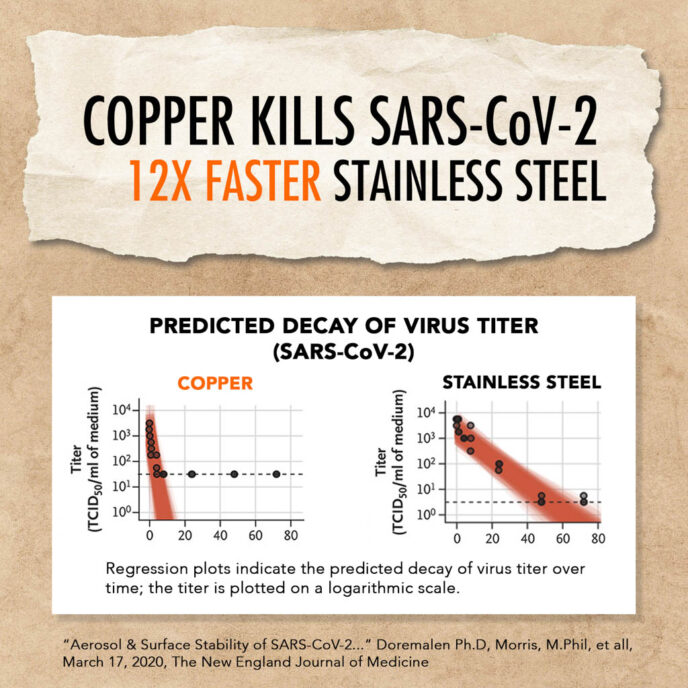 ANTI-MICROBIAL
Contact kills germs in 4 hours

LONG-LASTING
Continuous self-disinfection
REUSABLE
Repurposable and reusable

WIDE APPLICATION
Relevant on all hi-touch surfaces
Cu+Shield can be applied on commonly touched surfaces such as door handles, push plates, railings and counters where the spread of bacteria and viruses is a major concern. Cu+Shield also has a positive impact in hospitals, clinics and laboratories, senior healthcare facilities, public transports, kitchens, hotels, restaurants and workplaces where control of bacterial and viral transmission is a priority.






SKU/PART NUMBER
Cu-Shld-3015-2PK
Materials
99% Pure Copper* Thin Sheet
Premium double-sided adhesive strips
*As these are genuine copper, it will patina (turn pale greenish) over time dye to oxidation. This is a natural occurrence for all genuine copper materials
ROHS Certifications
This product meets the requirements of European directives and ordinances (2011/65EC ROHS; 2002/96/EC; 2003/11/EC; 1907/2006 EC REACH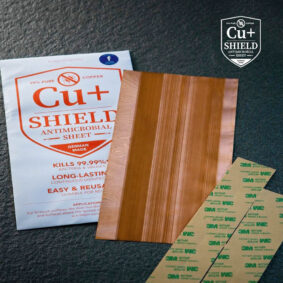 2 x Cu+Shield (15 x 30 cm)

1 set – Double adhesive strips
Only logged in customers who have purchased this product may leave a review.
Q & A
There are no questions yet