Leash
₱3,300.00
Designed for gear minimalists or situations where packing space is limited, Leash is a full-featured pro camera strap that fits in any pocket or camera bag. No chunky shoulder pads or bulky hardware…Leash sheds the superfluous bells and whistles found on other camera straps, yet still contains a ton of useful functionality that other straps can't provide.
In other words, it's all the strap you need, and nothing you don't.
Configurable as a sling strap, neck strap, safety tether, and more. Easily adjust length with dual aluminum and Hypalon quick-adjusters, designed to operate with just 1 finger. Connects and disconnects quickly using our unique Anchor Link system, and stows easily in your pocket or bag. Each Anchor holds over 200lbs (90kg), strong enough to keep the heaviest of pro rigs safe. As of 2018, Leash features upgraded webbing and totally revamped adjustment hardware. Anchor connectors have been updated to be smaller, faster, and more secure.
For more comfortable carry, check out Slide Lite. You can also compare all straps.
Everything you need, nothing you don't
Ultra-compact, versatile, quick-connecting camera strap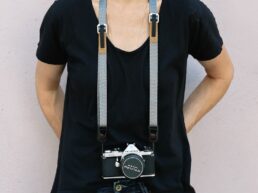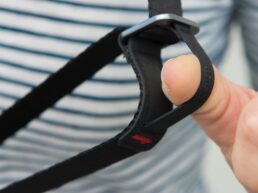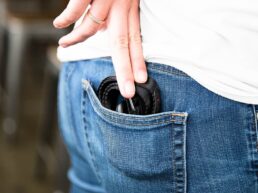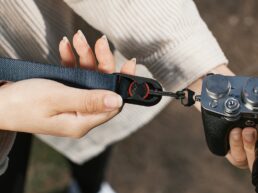 EVERYTHING YOU NEED, NOTHING YOU DON'T
After observing some of the world's greatest photographers use climbing rope and shoelaces to carry their cameras, we saw a need to create a camera strap with maximum utility in a minimalist package. Leash has incredible versatility, and more importantly, zero slop.
QUICK-CONNECTING & REMOVING
Attach and detach securely, instantly and one-handedly using our patent-pending Anchor Link™ connection system.
SLING, NECK OR SHOULDER STRAP
Instantly reconfigure Leash to adapt to your camera/lens setup, activity, or environment.
RAPID ADJUSTMENT
Unique aluminum/Hypalon quick adjusters allow 1-finger adjustment. Shorten strap for stable carry during physical activity. Lengthen to access your camera for active shooting.
HUGE RANGE OF LENGTH
Quickly adjustable from 33 inches (83 cm) to 57 inches (145 cm) to fit all body types and carry styles. with dual aluminum/Hypalon quick-adjusters.
SAFETY TETHER FOR CAPTURE
Capture user? Use Leash to prevent accidental drops when your camera is unholstered. Attach Anchors directly to Capture's quick-release plate.
POUCH STRAP
Connect Leash to Field Pouch or Range Pouch to create a lightweight, super-versatile sling bag for on-the-go carry.
NOT JUST FOR CAMERAS
Connect Leash to binoculars, rangefinders, tripods, tools, firearms, and more.
NEW ADJUSTERS
Low-profile aluminum/Hypalon quick adjustment system with dual adjusters.
ANCHOR MOUNT
New hardware lets you attach Leash to the bottom of your camera for more configurations.
UPDATED ANCHORS
Comes with our newest V4 Anchor connectors, which hold 200lbs (90kg) each.
NEW ANCHOR SHAPE
Angled shape enables effortless 1-handed connection.
SLIMMER LINKS
Anchor housing hardware is 25% slimmer.
UPGRADED WEBBING
Strap has increased durability, smoothness, and twist resistance.
REFINED AESTHETICS
Premium materials and redesigned touch/stress points.
SKU/PART NUMBER
L-AS-3 (Ash), L-BL-3 (Black), L-MN-3 (Midnight), L-SG-3 (Sage)
STRAP LENGHT
Min. length: 830 mm
Max. length: 1450 mm
ANCHOR SIZE
Head diameter: 17 mm
Loop length: 43 mm
STRENGTH RATING
• Anti-abrasion anchors
• 90 kg load rating
• Suitable for all cameras
MATERIALS
strap: seatbelt-style nylon webbing, anodized aluminum adjuster hardware, Hypalon® and leather accents (leather on Ash only) connectors: glass-reinforced nylon Links with stainless steel springs, 2-layer anti-abrasion woven thermoplastic Anchor cord, thermoplastic Anchor over-molding
ANCHOR MOUNT SIZE
30mm x 20 mm x (protrusion from camera) 5 mm
strap loops: fits all generation Peak Design Anchors, plus straps up to 13mm wide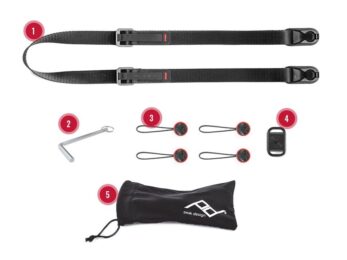 1 x Leash camera strap
1 x 4mm hex wrench
4 x Anchors
1 x Anchor Mount
1 x Microfiber pouch
Only logged in customers who have purchased this product may leave a review.
Q & A
There are no questions yet