Packable Tote
₱1,500.00
Ultralight and ultra-capable, the Peak Design Packable Tote is an unstructured and zippable carry-all with some key improvements over other packable tote bags: zip closure, a solo microfiber-padded shoulder/hand strap, and a self-healing nylon shell that is constructed out of a single piece of fabric, which minimizes seams and stress points. And it all packs down to become barely larger than a deck of cards.
The zip closure prevents spills and also keeps sand and dirt out, which greatly increases the versatility of the Packable Tote—groceries, travel, baby, beach—you'll never stop finding uses for this bag. Lucky for you, it's built to last. The durable #5 UltraZip can withstand decades of use, thanks to proprietary abrasion-resistant thread. The beautiful, 100% recycled ripstop 70D nylon/poly shell is self-healing, meaning it has a special coating that will actively heal small scratches. It's also water-resistant. The shoulder strap is constructed from high-strength nylon webbing with a soft sewn-in microfiber pad. Unlike dual-strap totes, the single strap makes this bag easier to grab, carry, and stow. Weighs a svelte 80g (2.8oz) and packs down to slip inside any pocket or bag. The integrated stuff sack doubles as an interior pocket when using the tote. Fair Trade Certified and 100% carbon neutral.
A Giant Leap for Tote-Kind
Ultralight, Ultra-capable, Packable Tote for Travel and Everyday Carry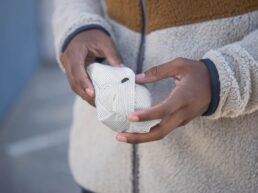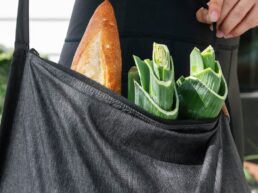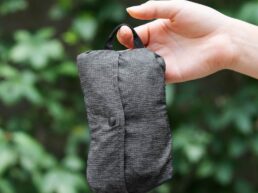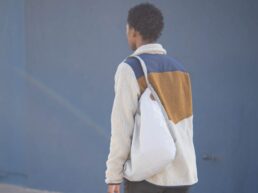 Packable tote bags have been around for a long time. When designing ours, we specifically aimed to improve on our pain points with the status quo.
Zip closure prevents spills and keeps sand/dirt out
Use as stand-alone bag, or as a packing tool to organize items in a larger bag
Single-strap design makes bag easier to grab, carry, and stow
Sewn-in microfiber pad on strap adds comfort for shoulder and hand carry
Minimalist patterning—main shell constructed from single piece of fabric to minimize seams and stress points
Burly #5 UltraZip withstands decades of use due to proprietary abrasion-resistant thread
100% recycled ripstop 70D nylon/poly shell can self-heal small abrasions
Water-resistant coating on shell
Packs down to barely larger than a deck of cards, stuffs into built-in stuff sack
When unpacked, stuff sack becomes an interior pocket that can hold a phone, wallet, or keys (max phone carry is iPhone 13 Pro – does not fit Pro Max models)
Ultralight construction, weighs just 80g
Fair Trade Certified and 100% carbon neutral
Lifetime guarantee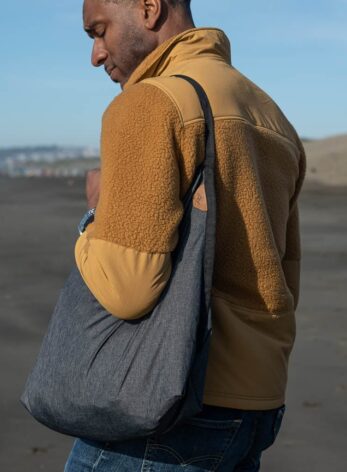 DIMENSIONS
Unpacked: 42cm x 41cm x 12cm (16.5" x 16.1"x 4.7")
Packed: 15cm x 9cm x 4cm (5.9" x 3.5"x 1.6")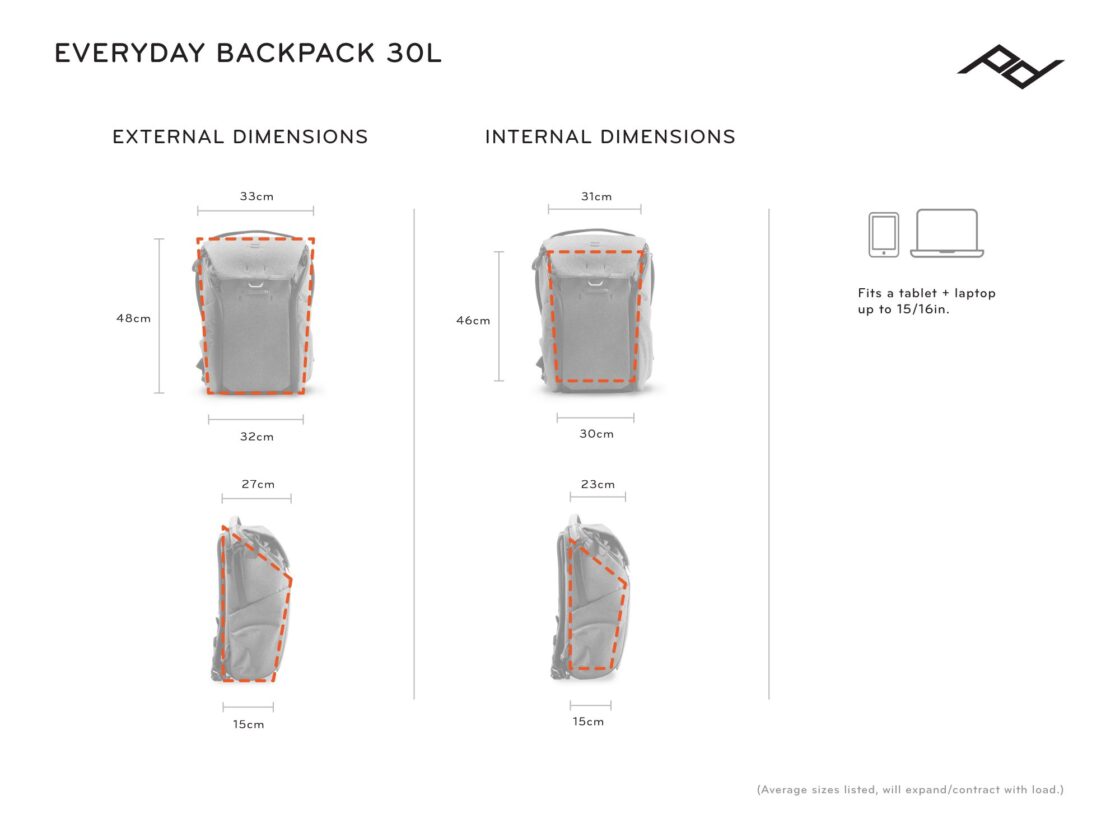 SKU
BPT-CH-1 (Charcoal)
BPT-RW-1 (Raw)
WASH POUCH BLACK MATERIAL
100% recycled ripstop 70D nylon/poly shell with water-resistant coating
Shell is solution-dyed, significantly reducing water consumption
High-strength nylon webbing strap with Clarino needle-punched microfiber pad
Super-durable #5 UltraZip with abrasion-resistant UHMPE thread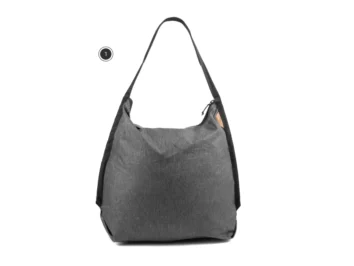 1 x Packable Tote (Charcoal or Raw)
Only logged in customers who have purchased this product may leave a review.
Q & A
There are no questions yet