Slide
₱4,990.00
The original Peak Design flagship camera strap, Slide is everything other pro camera straps aren't: beautiful, low-profile, adjustable, quick-connecting, and configurable to your gear.
Wear Slide as a sling, neck, or shoulder strap. Internally-padded nylon webbing has a smooth side that glides over clothing in sling mode and a grippy side that prevents slipping in shoulder mode. Dual quick-adjusters provide instant access and easy reconfiguration. The unique Anchor Link system connects quickly and dual points of connection keep your camera more stable than traditional sling straps. Each Anchor holds over 200lbs (90kg), strong enough to keep the heaviest of pro rigs safe. As of 2018, Slide features an improved silicone grip, upgraded webbing, and lower profile strap/hardware transitions. Anchor connectors have been updated to be smaller, faster, and more secure.
For mirrorless carry, check out Slide Lite. You can also compare all straps.
Most Versatile Camera Strap in the World
Quick-connecting, multi-purpose, lifetime guarantee, ultra comfortable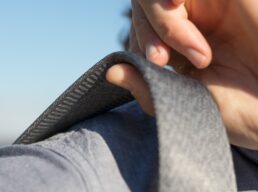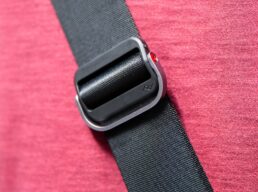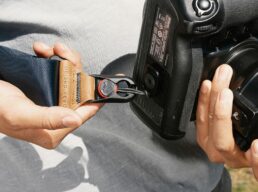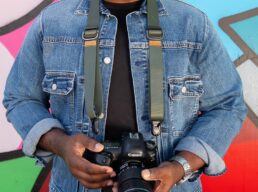 Our unique Anchor Link connection system lets you instantly reconfigure Slide as sling, neck, or shoulder strap.
Internally-padded webbing gives all-day comfort with no added bulk.
Huge range of length adjustment, made possible by 2 quick-pull adjusters
Highly stable camera carry via 2 configurable points of connection
Works with heaviest of pro cameras or binoculars
Webbing glides over clothing for quick camera access
Connects to strap loops or bottom of camera body via ultra low-profile Anchor Mount hardware
• Revamped Anchors (holds 200lbs)
• Webbing upgrade / ultra-smooth
• Better grip (upgraded silicone grips)
• Over-molded hardware
SKU/PART NUMBER
SL-BK-3 (BLACK), SL-AS-3 (ASH), SL-MN-3 (MIDNIGHT), SL-SG-3 (SAGE)
STRAP LENGHT
Min. length: 5cm
Max. length: 145 cm
ANCHOR SIZE
Head diameter: 17 mm
Loop length: 43 mm
ANCHOR MOUNT SIZE
30 X 20 mm; 5 mm (protrusion from camera)
STRENGTH RATING
• Anti-abrasion anchors
• 90 kg load rating
• Suitable for all cameras
MATERIALS
• Seatbelt-style nylon
• Anodized aluminum hardware
• Glass-reinfroce adjuster hardware
• Hypalon accent
• Leather accents on selected models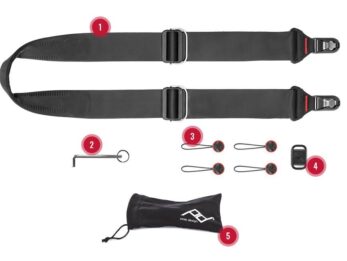 Slide Camera Strap
4mm hex wrench
Anchor connectors (4 pcs)
Anchor mount
Microfiber pouch
Q & A
There are no questions yet