OUT OF STOCK

Mobile Tripod
₱5,000.00
Designed by a team of award-winning tripod engineers, the Mobile Tripod is a precision-machined, buttery-smooth tripod for the camera you carry with you everywhere: your phone. Ultra-portable and pocket-friendly, it packs down to just a half-centimeter thick.
Magnetically grabs your phone with a satisfying 'pop' and holds it in portrait or landscape mode. The magnets, charging components, and chassis are each custom-designed to optimize charging alignment, charging speed, and heat dissipation. This unique mounting system is called SlimLink – a technology that grabs and locks your phone so effortlessly, it feels like magic.
Aluminum legs with anti-slip, vibration-damping feet deploy in both tripod and kickstand orientations. A micro ballhead smoothly adjusts your shooting or viewing angle, and ball tension can be adjusted with a magnetically integrated tuning key. Whether you're into photography, filmmaking, video chatting, Youtube rabbit holes, or all of the above, give your phone the tripod it deserves.
Requires a Peak Design Case or Universal Adapter (sold separately). Also works with MagSafe phones and phone cases.
Out of stock
World's Finest Phone Tripod
Ultra-Portable, Vibration-damping, SlimLink Technology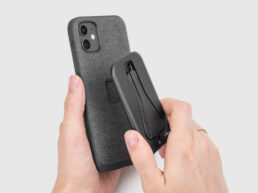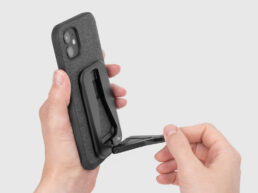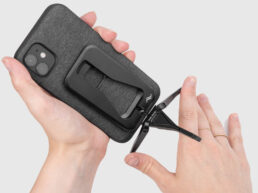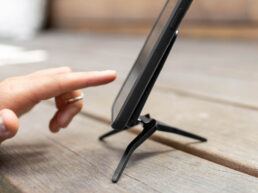 In 2019 Peak Design introduced the award-winning Travel Tripod, which set a new bar for tripod compactness and performance. That same team of engineers created the Mobile Tripod, applying many of the same materials and design principles.
MAGICAL CONNECTION SYSTEM
Built-in magnetic attachment technology (called SlimLink™) is ultra secure and feels like magic
Works with Peak Design Cases and MagSafe* phones/cases
PRO-LEVEL STABILITY & ADJUSTMENT
Buttery-smooth micro ballhead designed by Peak Design tripod engineers
Magnetically embedded tool for adjusting ballhead tension
Holds phone in portrait or landscape mode
Anti-slip, vibration-damping TPU feet
*MagSafe is registered trademark of Apple, Inc.
Packs down to an average thickness of half a centimeter
Footprint is smaller than a deck of cards
Deploy all 3 legs together and use as a kickstand
Legs can also be used as a grip for filming and selfies
Ultra-premium construction from solid machined & anodized aluminum
Built to last for many phones to come
Works with any phone with a 

Peak Design Case

 or 

Universal Adapter

Also works with any MagSafe phone or case
DIMENSIONS
9.7 x 5.5 cm

Thickness (bottom) 4.75 mm

Thickness (top): 7.5 mm
MATERIALS
Machined/anodized aluminum body and legs
Grippy silicone mounting pad with Tinuvin 770 UV-stabilizer
PVD coated stainless steel hardware
High-temp neodymium mounting magnets
Molded TPU anti-slip, vibration-damping feet
1x Mobile Tripod
1x Ballhead Tuning Tool
1x Pouch
Only logged in customers who have purchased this product may leave a review.
Q & A
There are no questions yet