Slide Lite
₱4,300.00
The most versatile pro camera strap in the world, Slide Lite packs the functionality of our flagship Slide strap into a smaller package, perfectly suited for mirrorless and light DSLR cameras, yet fully capable of carrying larger cameras as well.
Wear Slide Lite as a sling, neck, or shoulder strap. Seatbelt-style nylon webbing has a smooth side that glides over clothing in sling mode and a grippy side that prevents slipping in shoulder mode. Dual quick-adjusters provide instant access and easy reconfiguration. Unique Anchor Link system connects quickly and dual points of connection keep your camera more stable than traditional sling straps. Each Anchor holds over 200lbs (90kg), strong enough to keep the heaviest of pro rigs safe. As of 2018, Slide Lite features an improved silicone grip, upgraded webbing, and lower profile strap/hardware transitions. Anchor connectors have been updated to be smaller, faster, and more secure.
For more comfortable carry, check out Slide. You can also compare all straps.
World's Most Versatile Pro Mirrorless Camera Strap
Quick-connecting, quick-adjusting, versatile, lifetime guarantee, ultra comfortable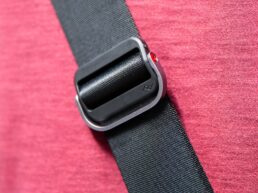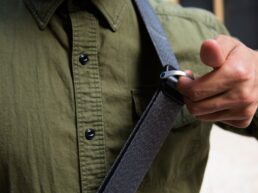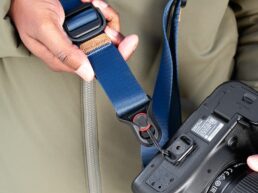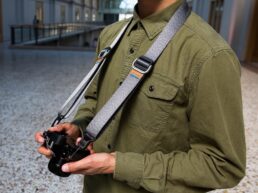 Our unique Anchor Link connection system lets you instantly reconfigure Slide as sling, neck, or shoulder strap.
Highly stable camera carry via 2 configurable points of connection
Works with heaviest of pro cameras or binoculars
Huge range of length adjustment, made possible by 2 quick-pull adjusters
Webbing glides over clothing for quick camera access
Connects to strap loops or bottom of camera body via ultra low-profile Anchor Mount hardware
More secure, fast, and lower profile than ever. New canted/angled Anchors for effortless 1-handed connection. 25% slimmer Anchor housing hardware.
Anchors still hold 200lbs (90kg)
New low-profile Anchor Mount is strong, versatile, and leaves a tiny footprint
New ultra-smooth nylon webbing with tighter, more durable weave
Upgraded silicone grip is more effective and durable
Strap molded directly into adjustment hardware for significantly lower-profile design
SKU/PART NUMBER
SLL-BK-3 (Black), SLL-AS-3, SLL-MN-3 (Midnight), SLL-SG-3 (Sage)
LENGHT
Min. length: 99 cm
Max. length: 145 cm
ANCHOR SIZE
Head diameter: 17 mm
Loop length: 43 mm
STRENGTH RATING
• Anti-abrasion anchors
• 90 kg load rating
• Suitable for all cameras
MATERIALS
Strap: seatbelt-style nylon webbing, anodized aluminum and glass-reinforced nylon adjuster hardware, Hypalon and leather accents (leather on Ash only)
Connectors: glass-reinforced nylon Links with stainless steel springs, 2-layer anti-abrasion woven thermoplastic Anchor cord, thermoplastic Anchor over-molding
ANCHOR MOUNT
Length: 30 mm
Width: 20 mm
Height (protrusion from camera): 5 mm
Strap loops: fits all generation Peak Design Anchors, plus straps up to 13mm wide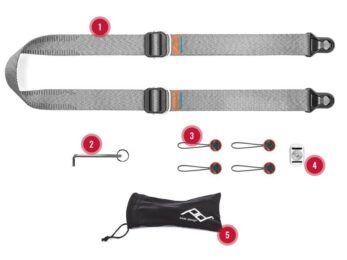 1 x Slide Lite camera strap
1 x 4mm hex wrench
4 x Anchors
1 x Anchor Mount
1 x Microfiber pouch
Only logged in customers who have purchased this product may leave a review.
Q & A
There are no questions yet