Travel Tripod
₱26,000.00 – ₱44,300.00
For years, traditional tripods have suffered from needless bulk and wasted space. We spent 4 years redesigning the tripod from the ground up, creating a travel tripod that packs down to the diameter of a water bottle—without compromising height, stability, or features.
Radically faster to setup and takedown, our tripod features ergonomic adjustment points, built-in mobile compatibility, and thoughtful details at every turn. Plus, it's built for life on the road: durable, 100% serviceable, and backed by the Peak Design lifetime guarantee.
Tripod includes legs, ballhead, protective soft case, ARCA-compatbile Standard Plate, mobile mount, hex tool with carrying clip, and bushing removal tool for maintenance. See Specs section below for details.
Pro-performance Ultra-Portable Tripod
High-performance, Stable, Ergonomic






PRO-PERFORMANCE, HALF THE SIZE
The Travel Tripod brings you pro-level stability, load capacity, and deployed height, yet packs down to the diameter of a water bottle. A ground-up redesign of the traditional tripod, the Travel Tripod is the result of 4 years of engineering.
GROUND-BREAKING ARCHITECTURE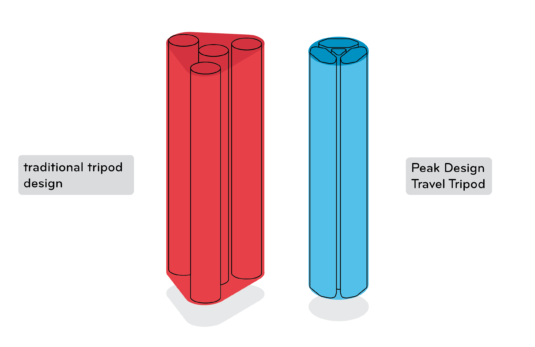 Spatially efficient design eliminates wasted volume when packed down. Packs down to the diameter of a water bottle. No protruding knobs.
LIGHTNING-FAST DEPLOYMENT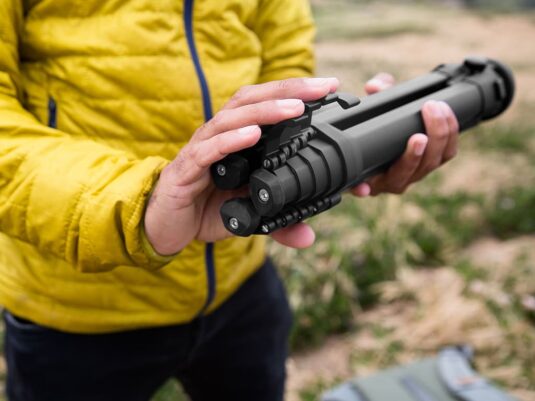 Unique design allows quicker, easier setup/takedown.
Secure, fast, and ergonomic camera quick release.
Fast-locking, low profile leg cams.
Legs deploy in seconds, without having to flip over like traditional travel tripod legs.
PRO-LEVEL STABILITY AND FEATURES
20 lbs. load-rated (optimized for full-frame DSLR + telephoto lens).
Stability and vibration damping performance comparable, if not better, than most tripods in its class.
Low & inverted modes position your camera inches off the ground
.
Integrated load hanging hook
.
Anchor attachment points for carrying with Peak Design straps (sold separately).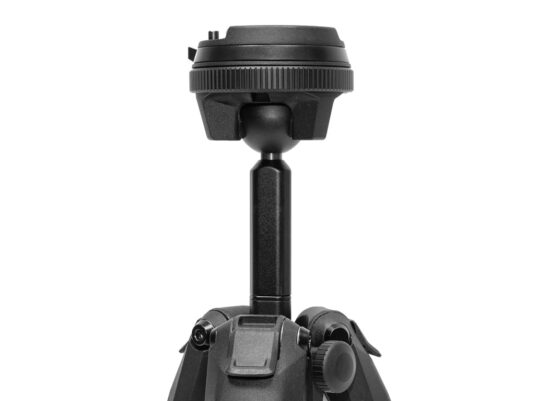 Ultra-smooth, omnidirectional Compact Ball Head.
One single adjustment ring. No bulky or confusing knobs
.
Simple locking ring for total security.
Compatible with all PD plates and most 3rd party Arca-type plates.
Removable pins allow use with most Arca-type L-brackets
.
Built-in and stowable mobile mount. Securely grips any phone/case
.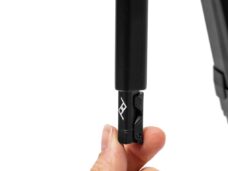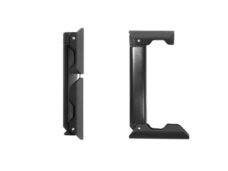 Aluminum alloy chassis, backplate, quick-release button and stainless steel locking pin
Weather and impact-resistant materials.
All parts are serviceable, cleanable, and replaceable.
Includes a padded, weatherproof case.
Guaranteed for life.
SKU/PART NUMBER
TT-CB-5-150-AL-1 (Aluminium)
TT-CB-5-150-CF-1 (Carbon Fiber)
DIMENSIONS
COLLAPSED
Length: 39.1 cm
Diameter: 7.9 cm
DEPLOYED
Max height (column raised): 152.4 cm
Max height (column down): 130.2 cm
Min height (low mode): 14 cm
Tabletop Mode (column raised): 57.2 cm
Tabletop Mode (column down): 35.9 cm
WEIGHT
Aluminium: 1.56 kg*
Carbon: 1.29 kg
*Optimized for pro setups, up to full-frame DSLR + telephoto lens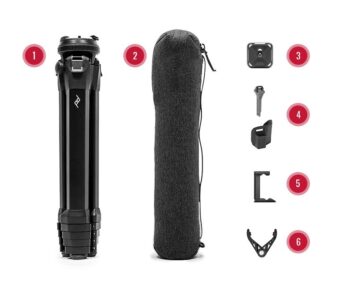 1 x Tripod (legs+compact ball head)

1 x Weatherproof soft case

1 x Standard Plate

1 x 4mm + 2.5 Hex Wrench

1 x Mobile Mount

1 x bushing removal tool
MATERIALS
Ball Head, Hub, Load Hook: powder-coated A380 aluminium
Legs: Anodized 6061-T6 aluminium (Alloy), Carbon F'n fiber (Carbon)
Quick Release, Adjustment Ring, Center Column Knob: Anodized 6061-T6 aluminium
Locking Ring: Polycarbonate/ABS blend
Feet: Shore A60 TPU
Only logged in customers who have purchased this product may leave a review.
Q & A
There are no questions yet