Creator Kit
₱3,300.00
Unleash the full photography and filmmaking potential of your phone with Creator Kit, a brilliantly versatile phone mount that adapts to tripods, GoPro mounts, 1/4-20″ mounts, and the Peak Design Capture Camera Clip. Leave the DSLR at home, and instead mount your phone onto any Arca-Type tripod head to capture time lapses and long exposures.
Forget the GoPro? Pop your phone directly onto any GoPro-style mount (like a helmet or chest mount) to capture and share POV video. Use the 1/4-20″ adapter to mount your phone all sorts of Vlogging and video rigs. And if you carry your camera in Capture, now you can carry/mount your phone in it, too.
Features an ultra-strong magnetic/mechanical mounting technology (called SlimLink) that grabs and locks your phone so effortlessly, it feels like magic. Attach your phone in portrait or landscape, and remove it instantly with the press of a button. Rigid and secure enough for any activity.
Requires your phone to have a Everyday Case or Universal Adapter (sold separately).
In stock
Unleash Your Creative Potential
Creative Rig for Your Mobile Phone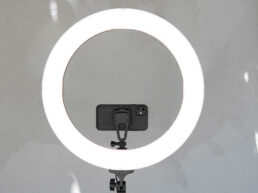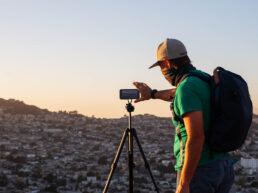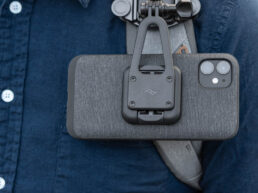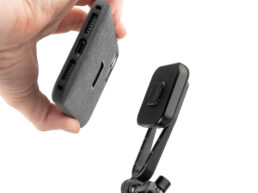 Smartphones have mind-blowing photo and video capabilities, and they're only getting better. Creator Kit extends the benefits of Peak Design's ultra-fast, ultra-strong phone mounting system to a vast array of creative rigs, making it easier than ever to capture pro-quality content with your phone.
MAGICAL CONNECTION SYSTEM
Magnetic locking technology (called SlimLink™) is ultra secure and feels like magic
No-look, 1-handed phone attachment and removal
Phone is held in place rigidly yet accessible with the press of a button
Locking mechanism strong enough for any activity
Remove/access your phone instantly and effortlessly
Durable, weatherproof aluminum & glass-reinforced polycarbonate construction
Built to last for many phones to come
ARCA tripods
GoPro mounts
1/4″-20 mounts
Capture Camera Clip
Use your phone as a GoPro® . Attach your phone to helmet and chest mounts to capture POV video.
Mobile photography. Mount your phone on any ARCA-compatible tripod.
Vlogging & mobile filmmaking. Mount your phone on filming rigs, ring lights, hotshoe adapters, and more.
Carry or film with Capture. Mount your phone in the Peak Design Capture Clip.
Requires a Peak Design Case or Universal Adapter (sold separately)
DIMENSIONS
Assembly with POV Plate: 11.5 x 2.4 x 5.5 cm
Mount Head: 5.5 x 5.5 x 0.7 cm
Dimensions vary depending on exact configuration
WEIGHT
All components: 106.9 g

Assembly with POV Plate: 94.9 g

Assembly with 1/4″-20 Plate: 87.6 g
MATERIALS
Machined/anodized aluminum mounting head
Glass-reinforced polycarbonate mounting arm
Polycarbonate mounting plates
Grippy silicone mounting pad with Tinuvin 770 UV-stabilizer
PVD coated stainless steel hardware
High-temp neodymium mounting magnets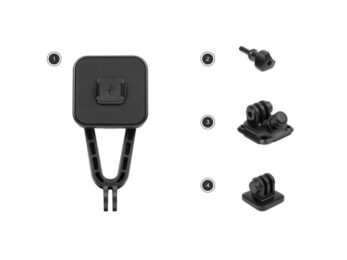 1x Mount Arm (GoPro mount compatible)
1x Thumb Screw
1x ARCA Adapter Plate (Capture compatible)
1x 1/4″-20 Adapter Plate
Only logged in customers who have purchased this product may leave a review.
Q & A
There are no questions yet