OUT OF STOCK

Motorcycle Mount 1″ Ball Adapter
₱3,500.00
Ideal for motorcycles, ATVs, overlanding vehicles, boats, planes, and wheelchairs, this adapter lets you upgrade your 3rd party phone mount with Peak Design's strong, low-profile, easy-to-use SlimLink™ connection system. It works with a variety of modular 3rd party phone mounting systems—any system that utilizes 1″ diameter ball-and-socket joints. These 3rd party systems enable an almost infinite range of phone mounting configurations, while the Peak Design 1″ Ball Adapter gives you brilliantly fast and secure locking action for your phone. Best-in-class vibration isolator prevents phone damage, yet preserves enough stiffness so you can easily interact with your phone while mounted. Weatherproof machined and anodized aluminum construction. A rubberized 1″ ball is over-molded on a solid aluminum shaft.
Requires a Peak Design Case or Universal Adapter. Also requires a 3rd party phone mount that utilizes 1″ ball-and-socket connection joints. Sold separately.
Out of stock
Best Upgrade for Third-Party Mounts
SlimLink Technology, Vibration Isolator, Weatherproof Machined Construction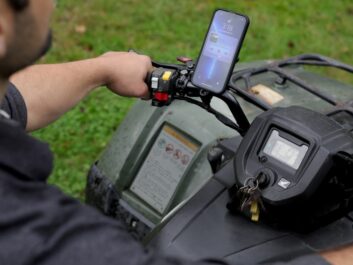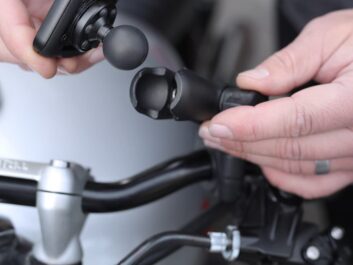 Upgrade your 3rd party phone mount with the speed, strength, and streamlined form of Peak Design's SlimLink™ mounting system. Whether you use your phone for navigation, music, or taking calls on the road, this adapter will leave you wondering how you ever lived without it.
BULLETPROOF CONNECTION SYSTEM
Magnetic locking technology (called SlimLink™) is ultra secure and feels like magic
No-look, 1-handed phone attachment and removal
Phone is held in place rigidly yet accessible with the press of a button
Rugged enough for any ride
Easily connect/disconnect phone with gloves on
Premium materials and stout construction mean this mount will last for many phones to come
ULTIMATE VIBRATION PROTECTION
Best-in-class vibration isolator prevents damage to delicate phone components
Road-tested for thousands of miles with diverse terrains, bikes, and phone models
Mounting arm can be rotated and locked into 24 different positions for optimal phone placement and viewing angle
Mounting arm can be removed for low-profile mounting
Holds phone in portrait or landscape mode
3rd PARTY MOUNT COMPATIBILITY
DIMENSIONS
Mount Head: 5.3cm x 5.3cm x 1.39cm
Ball Connector: 1″ diameter (25.4mm)
MATERIALS
Machined/anodized aluminum mounting head
EPDM rubber ball/arm with solid aluminum core
Grippy silicone mounting pad with Tinuvin 770 UV-stabilizer
Silicone vibration dampers
High-temp neodymium mounting magnets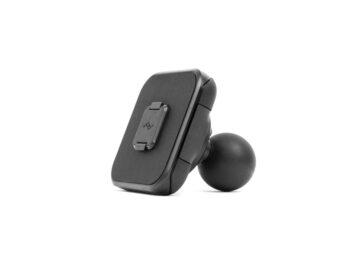 Only logged in customers who have purchased this product may leave a review.
Q & A
There are no questions yet