OUT OF STOCK
Car Mount
₱2,900.00 – ₱5,000.00
A phone mount that is so beautiful, secure, and intuitive, that once you install it in your car, you'll feel like it was there from the start. That's because unlike flimsy, bulky plastic car mounts that stick out like sore thumbs, the Peak Design Car Mount is made from a beautiful machined/anodized aluminum and mounts directly to your dash or console via an ultra-durable 3M VHB pad.
Ultra-strong MagSafe-compatible magnets hold your phone in place even during the most spirited driving'we call the mounting system SlimLink' and it's so fast and secure, it borders on magic. Adjust viewing angle with a buttery-smooth aluminum ballhead.
Car Mount's small footprint lets you mount your phone right where you want it without obstructing your view of the road.
Available in standard or wireless charging models. With the charging model, the mount's magnetic connection system ensures perfect charging coil alignment every time. That means more consistent and efficient charging, and no more surprise battery outages.
Requires a Peak Design Case or Universal Adapter (sold separately). Also works with MagSafe phones and phone cases. Charging may not be possible or optimal when using the Universal Adapter. Best results when attached to flat, hard, non-porous, non-textured surfaces.
Feels like a Factory Option
Beautiful, Minimalist, Secure Phone Mount for your Car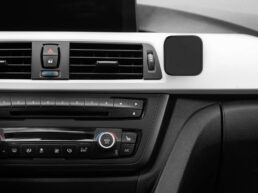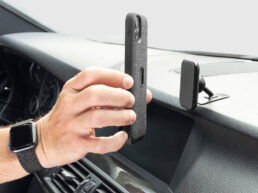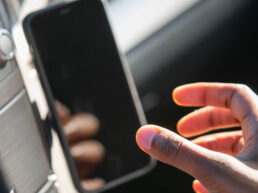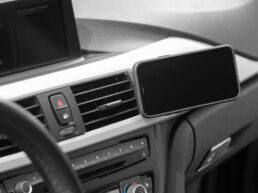 FEELS LIKE FACTORY OPTION
Your car isn't a cheap plastic afterthought, so why stick an ugly, bulky phone mount right in the middle of your dashboard? We designed our Car Mount to look and feel like it's been part of your vehicle from the start.
MAGICAL CONNECTION SYSTEM
Built-in magnetic attachment technology (called SlimLink™) is ultra secure and feels like magic
Works with Peak Design Cases and MagSafe** phones/cases
Holds your phone during even the bumpiest of rides
Attachment/detachment is instant and 1-handed
GORGEOUS MINIMALIST DESIGN
Low-profile, aesthetically clean design compliments your car's interior
Beautiful machined/anodized aluminum construction
Premium materials and stout construction mean this mount will last for many phones to come
*Wireless Charging model only
**MagSafe is a registered trademark of Apple, Inc.
ENDLESS MOUNTING LOCATIONS
Works in a variety of dashboard and console locations (vehicle dependent)
Installs with ultra-strong, ultra-durable, weatherproof 3M VHB adhesive
Can be safely removed without leaving damage or residue (see 

SPECS below

 for instructions
Enables mounting of your phone that doesn't block your field of view while driving
Smooth, stable viewing angle adjustment with wide range of articulation
Ballhead designed by Peak Design tripod engineers
Holds phone in portrait or landscape mode
Wirelessly charges your phone as soon as phone is magnetically attached to mount
Included high-quality USB-C cable and low-profile cigarette lighter adapter
Included clips for discreet cable routing
Works with any phone with a Peak Design Case or Adapter
Also works any MagSafe phone or case
Wireless charging may not be possible or optimal when using Universal Adapter
CAR/SURFACE COMPATIBILITY
Best results when mounted on a smooth, flat surface on your auto dash or console
Inconsistent adhesion to textured or porous surfaces
Attaching to unintended locations or materials may be possible, but may result in improper adhesion, surface damage, or improper viewing angle
Includes a 2nd adhesive pad for remounting/repositioning
CAR MOUNT SPECS
DIMENSIONS
Mount Head: 5.5 x 5.5 x 0.7 cm
Total Height (from dashboard): 3.7 cm (varies depending on ballhead position)
Base Pad: 3cm x 5cm
WEIGHT
CAR MOUNT SPECS
DIMENSIONS
Mount Head: 5.8 x 5.8 x 1.2 cm
Total Height (from dashboard): 4.5 cm (varies depending on ballhead position)
Base Pad: 3cm x 5cm
WEIGHT
MATERIALS (BOTH MODELS)
Machined/anodized aluminum mounting head & stem
Grippy silicone mounting pad with Tinuvin 770 UV-stabilizer
High-temp neodymium mounting magnets
ADHESIVE REMOVAL (BOTH MODELS)
Can be safely removed without damaging surfaces or leaving residue in most instances
Hold dental floss between adhesive pad and dash, and pull floss in a sawing motion to break the adhesive bond
If there is remaining residue, roll it off with your finger or remove with blue painter's tape
Includes a 2nd adhesive pad for remounting/repositioning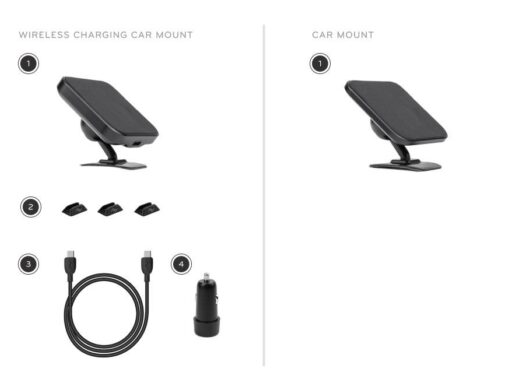 1x Charging Car Mount
3x Charging Cable Routing Clips
1x 1m Charging Cable (USB-C to USB-C)
1x Cigarette Lighter Power Adapter
1x Extra Adhesive Pad (not pictured)
1x Car mount
1x Extra Adhesive Pad (not pictured)
Only logged in customers who have purchased this product may leave a review.
Q & A
There are no questions yet