Out-Front Bike Mount
₱4,500.00
The streamlined yet rugged Out Front Bike Mount lets you rigidly mount your phone to your bike's handlebars, access it instantly, and even flip it up to film your ride.
Built from ultralight machined/anodized aluminum, the Out Front Bike Mount features an ultra-strong magnetic/mechanical mounting technology (called SlimLink) that grabs and locks so effortlessly, it feels like magic. Remove your phone instantly with the press of a button. Designed to hold your phone in front of your handlebars for optimized viewing, it can also be configured to sit below or behind your handlebars to accommodate bike computers. An included thumbscrew lets you reposition your phone on-the-fly to film your ride. And an included accessory mount lets you attach a bike light or action camera. Whether it's a quick commute or a century ride down gravel trails, the Out Front Bike Mount keeps your phone safe and viewable always.
Requires a Peak Design Case or Universal Adapter (sold separately).
In stock
Streamlined, Rugged Bike Mount with Filming Capability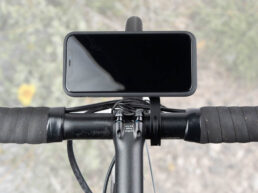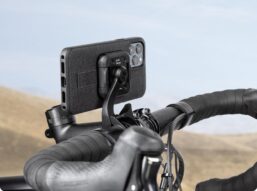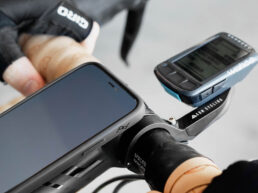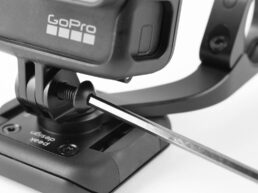 We are a team of avid mountain bikers, road cyclists, and gravel junkies. We designed the Out Front Bike Mount to handle any trail or activity, while giving us additional functionality that we always wish we had.
MAGICAL CONNECTION SYSTEM
Magnetic locking technology (called SlimLink™) is ultra secure and feels like magic
No-look, 1-handed phone attachment and removal
RUGGED ENOUGH FOR ANYTHING
Rigidly installs onto your bike handlebars via included hex screw or thumb screw
Locking mechanism strong enough for any cycling activity or terrain
Solid machined/anodized aluminum construction
Weatherproof, durable, and lightweight
Premium materials and stout construction mean this mount will last for many phones to come
Instantly turn your phone into a POV action camera
Included thumb screw lets you quickly reposition phone for filming your ride
Phone is held in place rigidly yet accessible with the press of a button
VERSATILE MOUNTING OPTIONS
Positions phone in front of your bars, in optimal viewing angle and away from your knees
Holds phone in portrait or landscape mode
Can be installed in reverse to be used in conjunction with an on-board cycling computer
Includes GoPro-style accessory mount for attaching bike light or action camera below your phone
Requires a

Peak Design Case,

or

Universal Adapter

(sold separately)
BIKE/HANDLEBAR COMPATIBILITY
Includes sizing collars to attach to the following bar diameters: 22.2mm (7/8″), 25.4mm (1″), 31.8mm (1-1/4″)
DIMENSIONS
Overall dimensions: 11.4 x 5.1 x 6.3 cm

Mount Head: 5.5 x 5.5 x 0.7 cm
WEIGHT
With hex screw and no collars: 87.1g
With hex screw and small collars: 88.6g
With hex screw and medium collars: 92.2g
With hex screw and large collars: 92.9g
GoPro-style accessory mount: 8.3g
Thumb screw: 8.8g
MATERIALS
Machined/anodized aluminum mounting head & arm
Grippy silicone mounting pad with Tinuvin 770 UV-stabilizer
Polycarbonate bar sizing collars
PVD coated stainless steel hardware
High-temp neodymium mounting magnets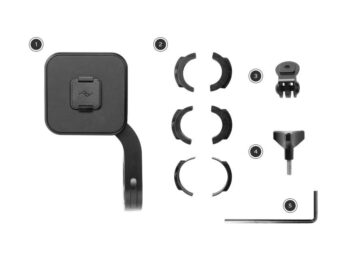 1x Out Front Bike Mount
3x Sizing Collars: 22.2mm (7/8″), 25.4mm (1″), 31.8mm (1-1/4″)
1x GoPro Accessory Mount + Screw
1x Thumb Screw (for flip-to-film functionality)
1x Hex Wrench
Only logged in customers who have purchased this product may leave a review.
Q & A
There are no questions yet