Wireless Charging Stand
₱5,500.00
Part desktop sculpture, part charging phone stand, our Wireless Charging Stand is made out of precision-machined anodized aluminum and adjusts with an ultra-smooth friction hinge to find your optimal viewing angle.
Magnetically grabs your phone with a satisfying 'pop' and holds it in portrait or landscape mode. The magnets, charging components, and chassis are each custom-designed to optimize charging alignment, charging speed, and heat dissipation. This unique mounting system is called SlimLink – a technology that grabs and locks your phone so effortlessly, it feels like magic.
A grippy silicone base and solid aluminum build allows for 1-handed phone removal' enabling the stand to stay put, unlike with other magnetic chargers. Hinged construction lets you infinitely adjust viewing angle, and also fold the stand flat for easy transport. Elegant, functional, and beautiful, it's the charging stand that your desk or bedside table deserves.
Requires a Peak Design Case, Universal Adapter, any MagSafe phone or MagSafe Phone Case.
Requires a USB-C power adapter that can supply 20W/12V output.
Charging may not be possible or optimal when using the Peak Design Universal Adapter.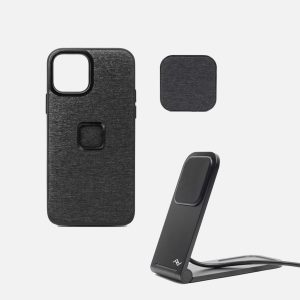 Starts at ₱8,510.00
In stock
Part desktop sculpture, part charging phone stand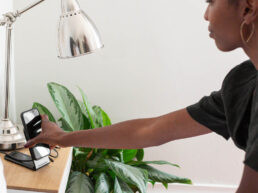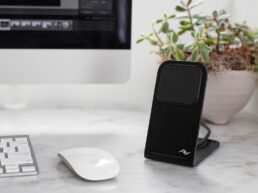 Aside from your pocket, your phone will spend most of its life by your bedside or on your desk. Our Wireless Charging Stand looks brilliant, provides full viewing angle adjustment, ensures optimal charging speed, and will last for many phone to come.
Built-in magnetic attachment technology (called SlimLink™) is ultra secure and feels like magic
Works with Peak Design Cases and MagSafe* phones/cases
Attachment/detachment is instant and 1-handed
Holds phone in portrait or landscape mode
BEAUTIFUL & BUILT TO LAST
Ultra-premium construction from solid machined & anodized aluminum
Minimalist design with matte finish compliments any desk or bedside table
Built to last for many phones to come
Guaranteed for life, like all Peak Design products
*MagSafe is registered trademark of Apple, Inc.
Optimizes charging alignment and heat dissipation to improve charging speed
Supports all standard charging profiles (15W, 10W, 7.5W, 5W)
Charging output automatically adjusts to device profile
2m USB-C to USB-C power cord included
Stand will stay put on your desk when attaching or removing your phone
Grippy silicone foot pads
ULTRA-FINE ANGLE ADJUSTMENT
Silky-smooth friction hinge for infinite viewing angle adjustment
Folds flat for easy transport
Works with any phone with a

Peak Design Case

or

Universal Adapter

Also works with any MagSafe phone or case
Wireless charging may not be possible or optimal when using Universal Adapter
DIMENSIONS
Folded Flat: 14.1cm x 6.9cm 1.6cm (5.6″ x 2.7″ x 0.6″)
Each side of stand is 0.5cm (0.2″) thick
Charging Pad: 5.5cm x 5.5cm (2.2″ x 2.2″)
WEIGHT
276.4g (9.74oz) (stand without charging cable)
43.5 (1.52 oz) (charging cable)
WIRELESS CHARGING SPECS
Proprietary magnetic charging architecture contains custom-engineered components to optimize charging speed
Supports all standard power profiles (15W/10W/7.5W/5W) as well as other profiles up to 15W max
Charging output automatically adjusts to device profile
Input: Min 20W (12V 1.67A) for optimal power delivery
Aluminum housing dissipates heat to improve charging speed
MATERIALS
Machined/anodized aluminum body and mounting head
Grippy silicone mounting pad & base pads with Tinuvin 770 UV-stabilizer
PVD coated stainless steel hardware
High-temp neodymium mounting magnets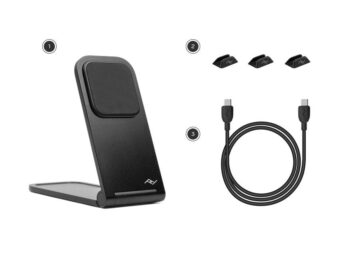 1 x Wireless Charging Stand

3 x Charging Cable Routing Clips

1 x 2m USB-C to USB-C power cord
Only logged in customers who have purchased this product may leave a review.
Q & A
There are no questions yet