SALE!

Universal Adapter + WFH Bundle
₱8,000.00
This 3-pack bundle consists of the Universal Mobile Adapter, Wireless Charging Stand and Wall Mount.
Whether you're working from home, setting up an office, or rigging a workshop at home, this WFH Bundle is the perfect solution for mounting, charging and accessing your mobile phone easily and effortlessly.
Universal Adapter is the adapter that can be installed on the back of a 3rd party phone case to make nearly any phone compatible with Peak Design Mobile mounts and accessories. At just 2.5mm thick and wrapped in a beautiful weatherproof nylon canvas, the Universal Adapter is low-profile, aesthetically clean, and adheres with 3M VHB for an ultra-strong, ultra-durable connection. With the SlimLink technology, it brilliantly and securely connects to the entire Mobile Ecosystem. It even works with Apple MagSafe accessories, too.
Wireless Charging Stand is made out of precision-machined anodized aluminum and adjusts with an ultra-smooth friction hinge to find your optimal viewing angle. Magnetically grabs your phone with a satisfying 'pop' and holds it in portrait or landscape mode. The magnets, charging components, and chassis are each custom-designed to optimize charging alignment, charging speed, and heat dissipation.
Wall Mount instantly and securely mount your phone to any wall, mirror, tile, or flat surface. Recipes in the kitchen, podcasts in the bathroom, video calls from the workshop…the potential for added utility with your phone at home is endless. Safely installs to a wide variety of walls with 3M E-series adhesive. Ultra-strong magnets grab your phone with a satisfying 'pop' and hold it in portrait or landscape mode. Low-profile and aesthetically handsome – the Wall Mount comes in light and dark color-ways to compliment any space in your home.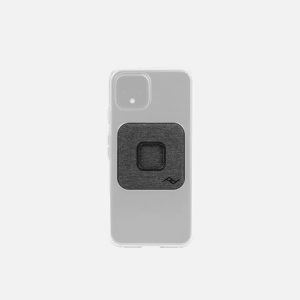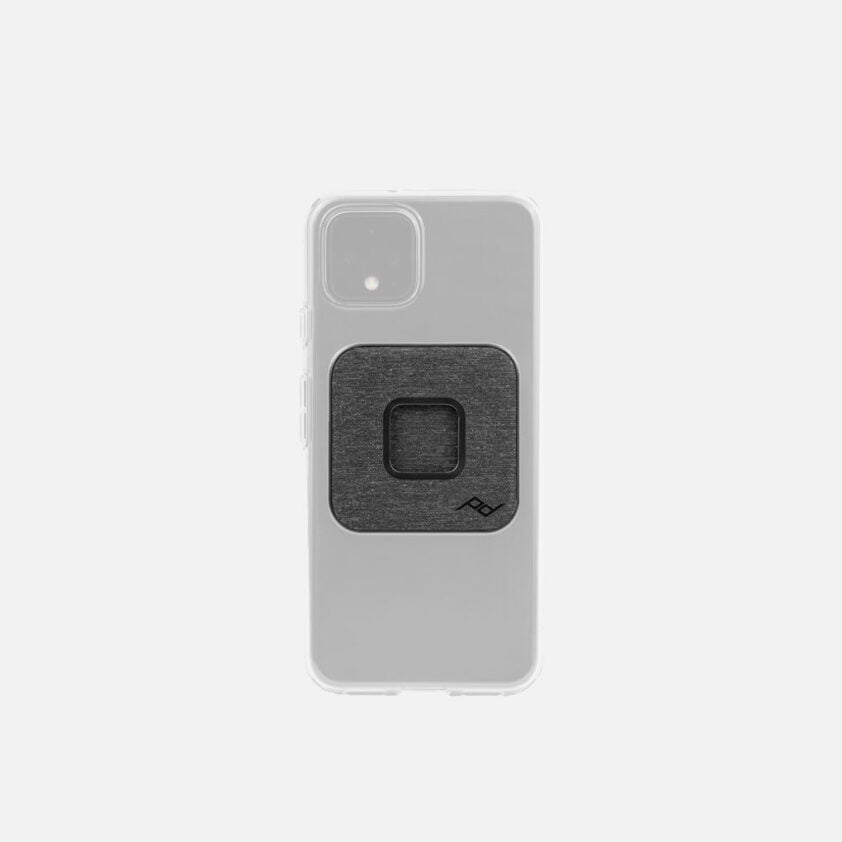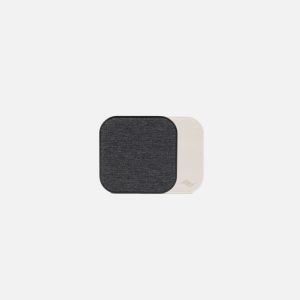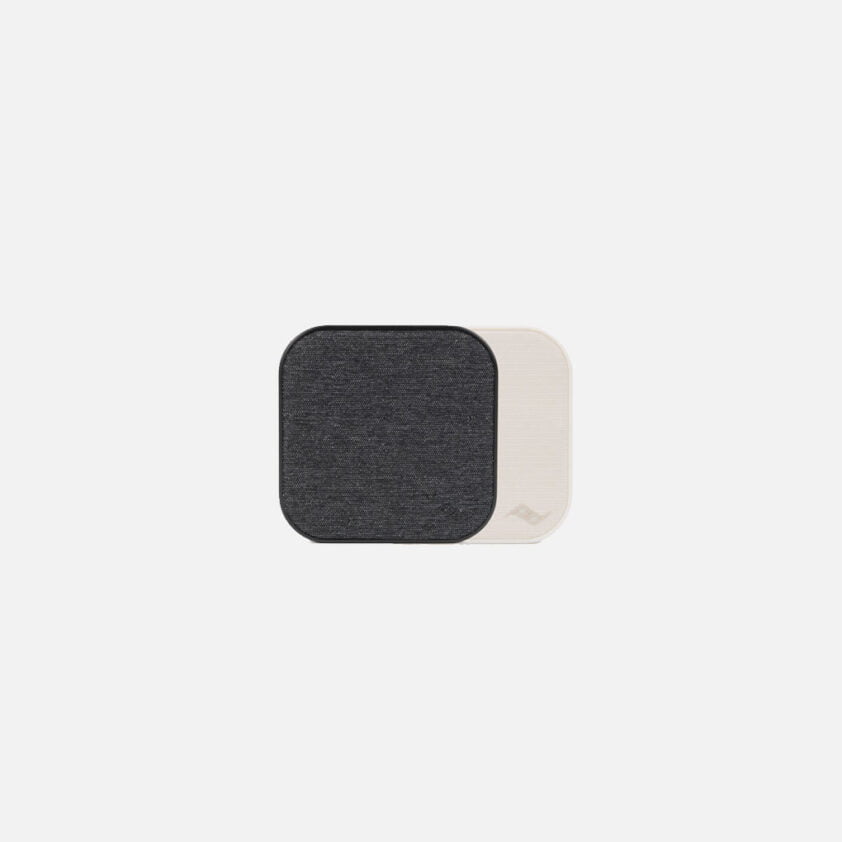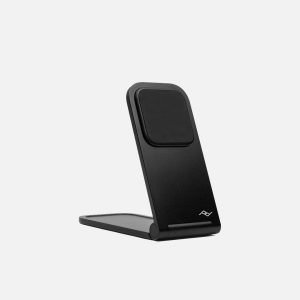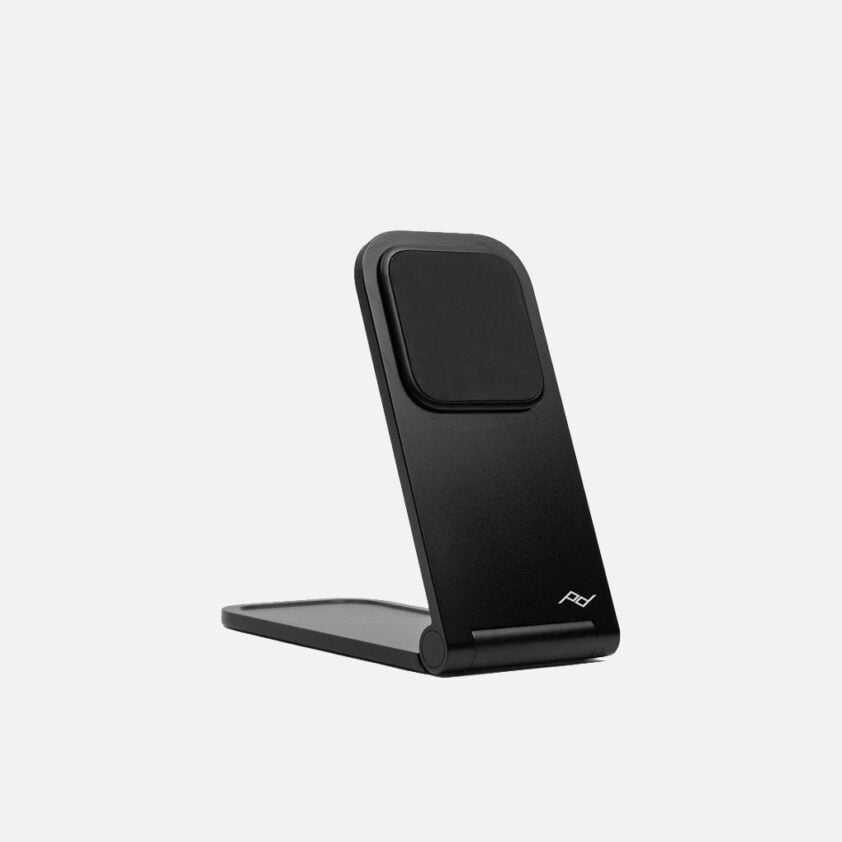 In stock
Essential Bundle for your Work / Home productivity
Quick Access, Optimized Wireless Charging, SlimLink Mount Technology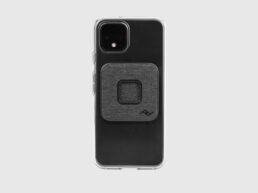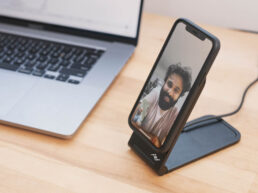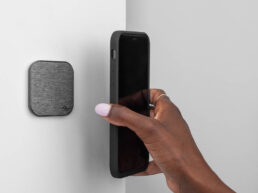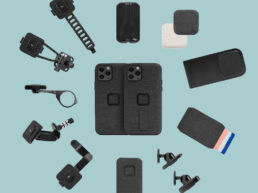 ACCESS THE ENTIRE ECOSYSTEM
Make almost any phone compatible with Peak Design Mobile mounts & accessories
Small footprint fits it in tight spaces
Compatible with MagSafe accessories Wireless charging may not be possible or optimal with adapter installed
SLIM, DURABLE, GOOD LOOKIN'
Slim 2.6mm profile adds minimal bulk to your phone
Nylon canvas fabric shell is weatherproof, 100% recycled, and Bluesign-approved
EASY, SECURE INSTALLATION
Installs with ultra-strong, ultra-durable, weatherproof 3M VHB adhesive
Includes alignment jig to optimize install process
Optimizes charging alignment and heat dissipation to improve charging speed
Supports all standard charging profiles (15W, 10W, 7.5W, 5W)
Charging output automatically adjusts to device profile
2m USB-C to USB-C power cord included
Stand will stay put on your desk when attaching or removing your phone
Grippy silicone foot pads
ULTRA-FINE ANGLE ADJUSTMENT
Silky-smooth friction hinge for infinite viewing angle adjustment
Folds flat for easy transport
Your phone is one of your most-used tools for daily life, yet its usually either in your pocket or in the way. Wall Mount takes your phone off the kitchen counter, bathroom sink, or workbench, and makes it safe, viewable, and accessible
ENDLESS MOUNTING POSSIBILITIES
Designed to go anywhere in your home, office, shop, and beyond
Installs on a wide variety of flat surfaces – wall, mirror, tile, and more
Low-profile, aesthetically clean design looks natural in your home
Wrapped in beautiful, high-performance nylon canvas fabric
Available in Charcoal or White to compliment a wide variety of surfaces
Only logged in customers who have purchased this product may leave a review.
Q & A
There are no questions yet